Gore's On Board!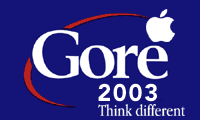 One cannot help but wonder, as the United States goes to war, what the situation would be like if Al Gore was president. One thing is for certain if Gore were president Bush would not be voted on the Apple board of directors. And last time I checked the Supreme Court does not have power over the board of Apple.
Apple has made a great move in getting Gore on board. His questionable inventing of the internet aside he brings to the table a wealth of contacts and connections from the inner halls of governmental power. In one key Apple market in particular — education — Gore's insight could be a key step to retaining and growing this market.
Gore will hopefully also ground Apple. Steve Jobs quite obviously lives in his own world — a world where 95% of the world uses Macs, not the other way round. Gore knows, as we all do, that Macs are still in the minority. Hopefully he'll have some refreshing ideas to help reverse this trend.
What do you think? Is Gore good or bad for Apple? Or will he make no difference either way?