Airport Express Falls Short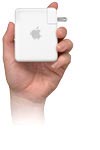 On the face of it Airport Express sounds really really cool. Stream tunes to your stereo anywhere in your house. Just plug it in to your wall, connect an audio jack out into your stereo and you are done.
Well, almost. Unlike digital music players that let you stream and control your digital music collection Airport Express is merely a streaming device.
Want to actually control your next track? Or pause what is currently playing? You have to traipse to wherever your Mac or PC is and control the songs from there. If your machine is in the same room you are in better luck. Still itís not ideal.
The problems with Airport Express donít stop there. Want to stream songs to multiple machines that are playing are different songs? Canít.
The Airport Express is undoubtedly a cool product that fills a need within the Airport line. The ability to extend a wireless network with a small device is great. But as a home audio device it has much to be a desired.
I have called, in the past, for Apple to create an iStereo, a digital componant that would stream music like the Aiport Express does but also let users control their music from the device. I suppose if the next version of the iPod has Bluetooth built in that could solve part of the puzzle. Still, the market is begging Apple to create a stereo component. HP has done it, Linkys has done it, and any number of small aftermarket players have done it. Unlike these companies Apple has the most to gain from getting a device out in the marketplace. Steve, spend some of the 5 billion you have in cash and get the job done. Now.