The Apple Store: Bad Customer Service at Your Local Mall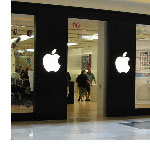 I have always taken pride in being a member of the 3.5-5% minority group known as Mac users. I found out this weekend one of the reasons we stay in the minority. I came to this realization this afternoon while I was at the mall with my wife and daughter. There we were, strolling past Victoria's Secret, Crate and Barrel, and Ann Taylor: all the usual stores you will find in any mall across the United States-when I saw a new Apple Store. The black facade, the white glow of the Apple logo—my heart began to race and my palms began to sweat. My first reaction was of excitement. I have frequented 2 other stores within driving distance, but this location is by far the closest to where I live. My walk suddenly became brisk in pace and I just couldn't wait to see everything inside. This excitement quickly turned to outrage. Mind you this was not a verbal tirade. I was not about to make a scene in front of my daughter. Rather this was an internal rage that I have kept inside of my brain for 6 hours now and thus, I am spilling out my frustration onto my iMac. Here's what happened.
Absolutely nothing.
Not one person. Not one so called "Mac Genius" who today were all wearing bright orange Apple Camp t-shirts, came up to me. Not one person greeted me with a hello. Not one person asked if I needed any assistance. Not one person explained to me what Apple Camp was even though as a prospective switcher nervous about the transition, I might find it useful. "This is a problem", I thought. "Maybe they think I'm just browsing", I thought. So I started to fiddle with things. I picked up the 30GB iPod. I ran my hand down the back of the Harman Kardon subwoofer. I picked up the ibook and flipped it over.
Still…no one.
"Maybe they are busy," I concluded as I glanced back to the bar area and saw 4 employees laughing and talking in a group. I left in disgust.
This is a big problem that Apple has on their hands. Suppose I was a timid PC user, riding the fence on switching and I came into this store looking for a friendly hand in making the switch? I would have turned right around and walked back out the door. The following is taken from Apple's website:
"At the Apple Store you can experience the complete line of Macintosh computers and an amazing array of digital cameras, camcorders, the entire iPod family and more. The Apple Store is a place to ask questions and get answers. And it's the best place to learn about the Mac."
Ok, the store had the products nicely displayed but it was not the, "best place to learn about the Mac". I am not asking for a dedicated greeter like my local Walmart. Nor am I asking for someone to hound me, a la Circuit City. Rather the Apple Store needs to focus on the non-Apple users before they cater to the existing Apple user base. We already know what we want, what is available, and what it costs. We are there to ogle and fondle. We are the 5%. Apple already has our support, our dedication, and our money. But if Apple wants to have any chance in increasing market share via the Apple Store, they are going to have to train their employees to be friendlier. Or at the very least to talk to their customers.
It's customer service 101. What have your experiences been like at the Apple Store?