The iPhone Antenna "Issue": FUD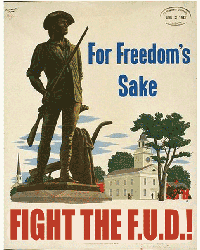 FUD* is one of those wonderful technology terms that is thrown around quite a bit, although not by this author. But today, observing the absurd accusations against Apple and the iPhone from all quarters, it is time to whip out FUD and take a look at what is really going on here.
Fear:
Consumer reports, the supposed unbiased non-profit has behaved like Gizmodo. I have no doubt that they saw this as a golden opportunity for more pageviews, more magazine sales, and more exposure. I doubt they had the consumer in mind.
Consumer Reports is spreading fear. Fear that anyone who has bought an iPhone made a mistake, and fear that anyone who is considering an iPhone is about to make a mistake.
The iPhone 4 is the highest rated smartphone according to Consumer Report yet they cannot recommend it? Based on what? Based on some questionable lab testing.
Fear.
Of course the typical Apple-haters (CNET for example) are jumping on this, calling for a recall, further exacerbating the issue and building up fear.
Uncertainty
Here Apple is not entirely blameless. Its reaction has been somewhat all over the place, from denial, to telling people not to hold the phone a specific way (which, I think, is entirely reasonable), to saying it is a software issue.
But in typical FUD style the press, especially the anti-Apple press and Android fanboys have been relentless in their pursuit to keep this topic alive.
The usual suspects are alive and kicking, whether it is Rob Enderle or CNET the articles keep coming talking of recalls, etc.
There are some brave folks out there who are not spreading uncertainty, in one case a piece by PCWorld by a couple of engineers.
Apart from many press outlets gleeful that Apple, which created the touchscreen smartphone, has made a "mistake" the multiple, vitriolic Android fanboys are out in full force as commentators.
Doubt
The final piece of FUD is Doubt. Could the iPhone be defective? Will I not be able to make phone calls when I really need to? Will I be wasting my money? Should I maybe buy an Android instead, it is a smartphone after all, and then I can become a Droid.
Doubt, combined with Fear and Uncertainty equals a disaster. Or a blip. The next few weeks will be telling to see which it is. The iPhone 4 has been the fastest selling device in Apple's history. You still cannot just order one online or walk into a store and buy one. They are being sold overseas at a huge markup by resellers. The list goes on and on.
FUD can be conquered with facts, so let us list them.
Apple has stated there is a software glitch that over-reports signal strength. There is an error in the company's algorithm and it will be fixed with a software update in a few weeks.
Any iPhone 4 user who is dissatisfied with their iPhone can return it within 30 days.
That second point is the most telling one to clear through the FUD. Before we start flaming the flames of a recall just point out to any user who is complaining (who, on the web, is likely to be an Apple-hater pretending to be an iPhone 4 owner) that they can return their phone and get their money back.
The market will inevitably decide if this is a real issue or not. If the iPhone really does drop calls en masse then expect to see a lot of returns.
But something tells me, even with all the FUD out there, this won't happen.
What do you think? Am I being an apologist or am I spot on?
* FUD was first defined (circa 1975) by Gene Amdahl after he left IBM to found his own company, Amdahl Corp.: "FUD is the fear, uncertainty, and doubt that IBM sales people instill in the minds of potential customers who might be considering Amdahl products."[4] The term has also been attributed to veteran Morgan Stanley computer analyst Ulrich Weil, though it had already been used in other contexts as far back as the 1920s.[5][6]
As Eric S. Raymond writes:[7]