Review: A Look at the PodHolder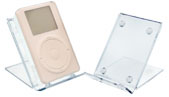 Gregory Ng, Contributing Editor and Hadley Stern, Publisher and Editor-in-Chief take a look at the PodHolder, a clear acrylic stand for the iPod.
Hadley: I hate how the only way that I can have my iPod on my desk is to have it lying flat.
Greg: Me too. The PodHolder gives me the opportunity to proudly display it as well as gives me easier access to all its controls.
Hadley: Although, one funny thing is that when my iPod is connected to my machine I can't control it anyway accept from iTunes, so what's the point?
Greg: Yes, but when you are listening to your iPod with headphones at your desk it serves its purpose.
Hadley: True, I guess there are a couple of ways you can use your iPod at your desk. One is to plug it into your Mac where you can either sync it, or listen to music from your iPod. The other way is the one you mentioned, just listening to it with your headphones. This is what the PodHolder is really best at.
Greg: I think it works well when it is connected via firewire too. For instance, my iPod is now not in danger of scratches from dirt on my desk, and God forbid, if I ever spill my coffee, it is elevated and therefore protected.
Hadley Very true, and you spill stuff quite a bit.
Greg: I'll let you get that jab in, but next time it will cost you. Anyways, I am glad that this was designed very minimally. It lets the design of the iPod be the star, you know?
Hadley: You are right, so many of these iPod accessories seem like they are trying to one-up the already perfectly beautiful iPod. The PodHolder doesn't do this. It's in the background, visually, which is a good thing. It's made entirely of plexiglass and is held in place by clear and sturdy rubber feet. I liked how it stayed in place even when I was pushing the buttons on the top of the iPod.
Greg: Yes, but what do you think of the price of $15.95. Worth it to you?
Hadley: I think so. Its an item that is clearly (no pun intended) going to last. What do you think?
Greg: Yeah, with a price of under 20 bucks it is in mind clearly worth it. It does what it set itself out to do: Stay put, hold the iPod, and not interfere with the controls.
Hadley: Anything you'd do differently or improve upon?
Gregory: There were a few little things I noticed. For instance, the PodHolder label applied to the base of the unit was applied crooked. I know you might think that is nitpicky but it stood out in my mind.
Hadley: Yeah, it was a little off on mine too, anything that has to go along with the perfectly designed and highly detailed iPod should also be the same. To be honest, though, I just took off the label to have that nice minimalistic look. On the design detail end I do like how the plexi is nicely tapered to match the curves of the iPod.
Greg: I liked that too! I'm glad you pointed that out, I almost forgot. The corners are nicely rounded. Clearly this was fully thought out. Its refreshing to see thought out details in even the smallest of desk accessories. The iPod deserves it.
Hadley: It does. If you don't like how your iPod looks just thrown down on your desk this product is for you. Its reasonably priced, well-made and does what it is supposed to do—display the iPod on your desk at a nice viewing angle. Any last thoughts, Greg?
Greg: Besides agreeing with how you summed that up, Hadley, my closing statement is that with all the time my iPod spent lying on its back, the PodHolder has allowed it to finally stand.
Hadley: We'll leave it at that! The PodHolder can be found at PodShop.com. They have become permanent fixtures of the desks of us here at AppleMatters.