Review: A Look at the iPod Armor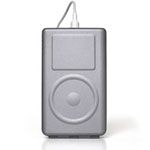 Hadley Stern, Publisher and Editor-in-Chief and Gregory Ng, Contributing Editor take a look at the iPod Armor, a metal case for the iPod.
Hadley: Today we are looking at the iPod Armor by Matias Corporation, a case for your iPod.
Greg: At first I had my doubts about this product. It carries a price tag of almost 50 bucks! How good could it be?
Hadley: It does seem a bit much to pay for something to hold your iPod, but after I used it I felt it was well worth the cost.
Greg: When I first picked it up, it was heavier than I had expected. It is well-made and is very durable.
Hadley: Itís definitely well-made. For example, the detailing of the clip which has enough give to open the case and enough take to keep it closed. One of my concerns was my beloved iPod jangling around inside the case, but my iPod fit perfectly snuggly within the case.
Greg: Yes. Most iPod cases we have seen either work for the newer models or work for the older models. But it also fit my iPod very nicely. It was not difficult to insert it and the foam and plastic padding did not worry me in terms of scratching.
Hadley: Thatís right, you have the newer 20-gig model and I have the older 10-gig one and both fit perfectly.
Greg: After inserting my iPod in the iPod Armor, I closed the lid and gave it a light shake. Nothing inside budged. This impressed me.
Hadley: What this case does which is nice is allow you to use the iPod while its still in its case. You simply flip open the top and you have access to your iPod. Once I had my iPod in the case I had no real reason to take it out.
Greg: Another thing to point out is that this case is so durable that when it is in the iPod Armor, you don't need to use the hold button. The aluminum casing and foam inside makes it impossible for the controls on your iPod to be touched or inadvertently damaged.
Hadley: That is a nice touch, so what about the downsides? One for me is size: unlike some other cases, this one takes up quite a bit of room in my pocket.
Greg: Let me first mention some more upsides, and then Iíll talk about some downsides. The plastic spacer for the top of the iPod Armor had notches cut out to perfectly accommodate the tabs on the Firewire port cover and hold button when sliding in. Really nice touch. Did you happen to notice this detail Hadley?
Hadley: I didn't until you pointed it out, which is a sign of a well-thought-out design.
Greg: Now let me talk about the size issue. In my opinion, if you want something that will protect your iPod, this is it. No one makes slim streamlined tanks. I see this as being useful if you work out in a gym and are afraid of your iPod falling onto the hard floor.
Hadley: Very true, I can't imagine a hardier case for your iPod. Not that I would ever drop my iPod! But if I did, I'd want it to be in an iPod Armor case.
Greg: Lets face it, no matter how careful you are, accidents happen. This iPod Armor gives me peace of mind.
Hadley: True.
Greg: I have mixed feelings on the exterior embossment. What are your thoughts?
Hadley: I don't like it, in fact itís the only thing about this product I don't like. By mimicking the scroll wheel and screen I think it makes the outdoor case look cheesy. The iPod, after all, is all about form and function. Having the embossed detail has no function; I would prefer just a nice sleek blank case. What do you think?
Greg: At first I felt the same way. But in a way, it is nice to show a hint of what's inside. I go back and forth. I think that I am going to get it engraved to personalize it more. I wonder if that is something Matias Corporation could offer. Just like Apple does for the custom engraved iPods?
Hadley: That would be a good idea; another one would be interchangeable faceplates. All in all, this is a great product. I can't think of anything that will protect your iPod better than this. If you've ever dropped your iPod, get one. If you ever don't like the way your iPod jumps around in your car, get one.
Greg: I could not agree more. This product is well made, well designed, and well executed. It is worth every penny.