iLuv i1055 DVD player: Is this the iPod video killer?
iLuv have released a DVD player, the iLuv i1055, with a special feature - you can dock your 5G iPod in the back of it and play your videos through the iLuv's 7 inch screen and audio system. Starting price is a quite reasonableUS $250.
And it comes in black or white to match your iPod as the image below shows it with an iPod in its dock.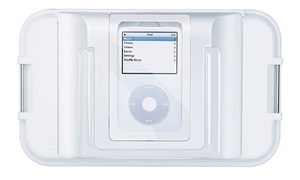 From the way I look at it, it kills off the need for Apple to produce a proper iPod video. The biggest an iPod video screen is likely to be, is only 4 inches, so is there a need for an inbetween sized iPod when there's a device like this? You'd either watch on your current 2.5 inches, or watch on the i1055's excellent 7 inches.
Here's the specs from the iLuv website:
FEATURES
Portable Multimedia Tablet-Style DVD Player with 7" Active-Matrix TFT LCD Screen
• Watch a movie stored on iPod with 7" widescreen (16:9 aspect ratio) active-matrix LCD
• Enhanced user interface with detailed controls
• S-Video output for external TV viewing
• Featured with convenient OSD (On-Screen Display)
• Multiple subtitle / angle / audio functions
• Slow / fast motion play and zoom operation
• Built-in Ni-MH rechargeable battery
• Playable Media: DVD / VCD / Audio CD / MP3 CD
Special Features for Your iPod
• Charges iPod while viewing a movie and listening to music
• Integrated dock for iPod with video (30GB, 60GB)
• AC adapter must be connected to i1055 in order to charge iPod.
SPECIFICATIONS
• Power Sources
· 9V (AC/DC) Power Adapter
· Built-in Ni-MH Rechargeable Battery
• Inputs & Outputs
· Video Input / Output Jack
· Audio Input / Output Jack
· S-Video Output Jack
· Two 3.5mm Stereo Headphone Jacks
• Audio Output: 2 x 0.5W (Total 1 Watt RMS)
• Battery Playing Time: Approx. 2.5 hrs