iChat alternatives for chatting in OS X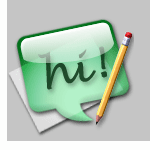 People love online chat. Having said that it's e-mail that is the number one reason why people use the Internet. Second to email is the good old world-wide-web. What's great about email and the web is that no matter what platform you are on you can still use the standard http:// or email protocols. Chat is different—it's like there are different webs out there and you have to pick which protocol to go with. Some people are AOL users, others die-in-the-wool IRC users and then there is Microsoft chat. You get the point—there are many choices all running on their own networks and right now they don't talk to each other. Let's take a look at all these different choices for the Mac, including Apple's iChat and programs that let you use all the different protocols in one program.
Users do have open source implementations of the IRC protocol at their disposal, like Ircle and Snak. But that is like chatting on a telnet client, no warm fuzzy feeling there. We move to Microsoft, AOL and Yahoo who did kind of try to provide us with 'user friendly' chat software. But at the time ICQ was the biggest player in town and also had a good Apple version of their client, so many settled into ICQ. And even today it's geeky cool to have a short ICQ number. During this time chat software was becoming the hottest thing since bread came sliced and users were playing the field trying to find the best messenger out there. This resulted in the fact that many of us have colleagues, friends and family scattered across the chat clients. Clients like: ICQ, Yahoo messenger, AIM, iChat and of course MSN messenger. These are the instant messengers that are still battling it out for market dominance. Some don't see the need to wait for the dust to settle and have a solution at hand to integrate the major clients into a single client. Fire and Proteus are the leading proponents of this method for OS X. Fire is probably the better known of the two, it being free and all.
With all these choices out there it can be hard to choose. iChat (AV) seems to be the contender and is basically an AIM client without the tickertape and advertising. Yahoo comes very close with its cross platform web cam solution. MSN messenger, which has at last added the logging feature found in AIM, is a bit sticky and slow. ICQ is often used in businesses as an office tool. ICQ has tailored its features to suit business use and to this day they still have a strong Apple user base. But the constant spam like message attacks has turned a lot of users off. Most of the vendors never seem to put in their best effort into bring their clients to the Apple platform. We seem to be getting second best. So we're left with Apples choice for the AIM client and this was mainly due to the lack of choice. None of the vendors except for AOL offered a license to allow third parties to build their own client based on the vendors proprietary messaging protocol. Apple could have gone the IRC route, which is open source, but that would have meant that they would have had to build a user base from scratch. A similar problem would have hampered a Jabber based solution, who are trying to establish a standard for messaging. The down side of Apples choice is the fact that AIM is basically an 'America only' affair. Here in Europe it is MSN and ICQ that rules the roost, meaning that there are few iChat users overseas. My fingers are crossed that Microsoft and AOL actually do find a way to have the clients interoperate. This in turn could help users switch to iChat, providing if Apple could benefit from Microsoft and AOL holding hands.
With all these competing platforms it can hard to keep in touch with people. Some friends or family may be on the AOL, others on Yahoo or MSN. Suddenly you find you have to have three or more applications open at once. To be able to access a number of accounts in a single application would be liberation from chat window hell. And now we have that choice. Despite some of the first generations being a bit buggy they are now good and stable choices of programs that allow you to use multiple protocols within one application. And for those stuck with multiple clients this method is the way to go.
Fire has been around for a while and is pretty stable. And the same can be said of Proteus, a shareware alternative. Agreed, setting up multiple accounts all over again can be slightly bothersome but the benefits more than make up for the inconvience. There is not much to choose between these native OS X applications but feature wise Proteus is slightly ahead. And one of Proteus's features really stands out. It can host users from different messaging clients. You can invite ICQ users and AOL users into a 'room' and they can all chat to one another. This is what every chatting project manager must dream of.
Personally my vote goes to Proteus, it's stable, quick and has more features. The small shareware fee is worth it in my opinion and may also enable them to add a webcam feature in a future release. In the meantime pick your messenger and let's get chatting because it's never looked so promising!