Crumpler's The Considerable Embarrassment Laptop Bag
Macworld seems a world away now. When I went to Macworld I took my Crumpler bag with me. This in itself is significant. Why? Because as I was packing to leave I took out my WWDC 2006 bag that was provided by Apple. I imagined myself in line at the keynote, getting Mac-respect from others around me as they looked longingly at my WWDC 2006 bag. I even packed the bag. It really isn't that bad, but after using the Crumpler bag for the previous few weeks I couldn't do it.
So, at the last minute I scrambled to unpack the WWDC bag and transfer the contents to my Crumpler bag. Like any good product, it is the good things that make the Crumpler bag really sing. The material, to start off with, is of high quality, very strong, and waterproof (within reason, not waterproof as in you can swim with it). My MacBook Pro 15" fits perfectly within the case. There is a dedicated protected area for the laptop with a nice velcro overlay. The machine has more than enough padding for any road warrior's travels, whether they be in the air, rail, or on foot.
The front of the bag has all the compartments I needed for my extra battery, (paper) notebook, requisite zip-lock bag with various toiletries for flying, my power brick, iPod, and a bunch of cables. The bag has the perfect balance of zip compartments for things you really really don't want to lose, and fellow-help compartments for things you want super easy access too. The front pocket can also be zipped up on its own.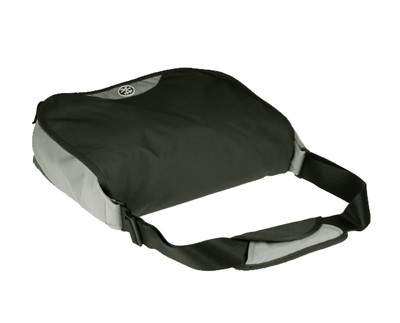 The bag from the outside. You can get it in a variety of colors.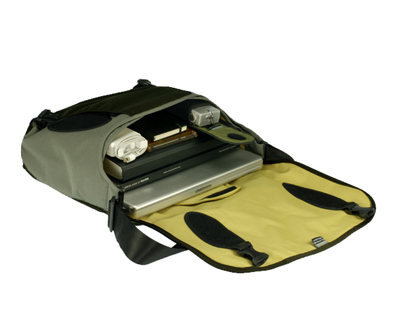 As you can see there is a ton of room for everything a road warrior needs. Too much room or not enough room? Crumpler has
a large variety of other bags that will probably fit the bill.
Speaking of zippers, they are all of the highest quality, not the cheapo kind of zippers you see on other bags.
That is all the details on the inside, but perhaps the best part of the Crumpler bag is how it feels when you carry it. The strap is very wide, and the connectors are built into the bag, instead of being clipped in. This means that when you wear the bag it literally wraps around your body in a very seamless way, making long walks very comfortable.
The Crumpler bag is easily the best bag I've ever used. The materials are top-notch and the layout of the compartments is perfect. I would not hesitate to recommend this bag for any laptop user, road warrior or not. Of course there are a slew of other configurations of the Crumpler bag, bigger to smaller, less pockets to more pockets. They also have a whole line of camera and other bags which can be found on their website.
My one criticism of Crumpler actually relates to their website. Irreverence is all fun and fine but it is a little overboard on their site. Reading through the sinewy wit to try and dissect what a bag actually is can be tough. I suggest Crumpler limit their humor to their titles and leave it at that.
Overall I give this bag a 9/10. You can see their entire product line at CrumplerBags.com