A Festive Mac: 10 Holiday Add-ons
The holiday season is upon us. For the majority of people that means Christmas! Lets take a look at the variety of Christmas-themed widgets and fun stuff out the available for the Mac - and for those who celebrate Chanukah or Kwanzaa we even dug up a couple of things for you.
This is the time where you can get your kids, assuming they use your Mac, really excited, and for the Mac zealots out there, a chance to show off widgets and beautiful themes that a Windows machine could only ever dream of.
At this time of year, millions around the world love to decorate their house in trimmings and erect a beautiful green tree to celebrate the occasion, so why is it a computer should be left out? Sure, any Macintosh you own or have ever owned always promised beauty but that doesn't mean it should be left out of the decorations as well. Time to dress up, and for once I don't mean literally – lights on the side of your Mac is a serious safety issue guys!
So without further a do, here's my little guide into turning your ordinary Apple computer into Jolly St. Mac. Grab yourself a brandy, or if you prefer, a Coca Cola, then sit back and enjoy.
Widgets
Christmas Lights



The first thing to do with Dashboard is set the theme, and what better way to do this with virtual flashing Christmas lights that sit brilliantly around the edge of your computer screen? Christmas Lights allows you to alter the pattern in which the lights flicker, whilst also allowing you to customise the colour of the light holders. It's all very fancy and does make a distinct different to your mood when you use Dashboard.
Download: http://www.apple.com/downloads/dashboard/games/christmaslights.html
Requires: 10.4 or later
Hebcal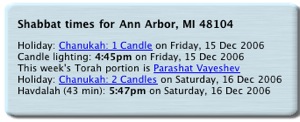 For those that celebrate Chanukah, you'll be pleased to know that of the very few OS X widgets available, there is one that displays Jewish Shabbat and holiday times. Although the website does display the widget showing dates for 2005, 2006 dates and times are present in the widget once downloaded.
Download: http://home.comcast.net/~hebcal/
Requires: 10.4 or later
Christmas Countdown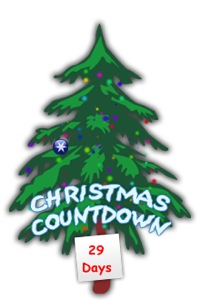 You know how kids just love to ask (about 5 times a day) how many days there are until Christmas, right? If you've got your laptop handy, just hit F12 and tell them. Every day that passes by a new decoration is also hung, so come Christmas you've got a rather pointless but fully decorated Christmas tree sitting in Dashboard. I dread to think what will happen on the 26th!
Download: http://widgets.kevincrafts.com/
Requires: 10.4 or later
Adventskranz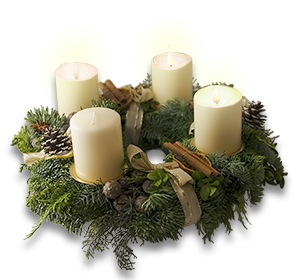 For the more religious folk out there who insist on using widgets throughout the day, why not light a candle on each Sunday of advent leading up to Christmas?
Download: http://www.apple.com/downloads/dashboard/games/adventskranz.html
Requirements: 10.4 or later
Games
Christmas Crisis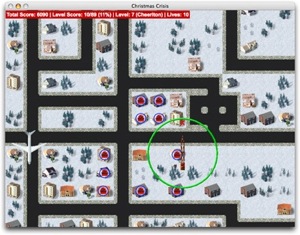 A Christmas game just isn't a Christmas game without cheesy music and [literally] funky graphics, so it's no wonder Christmas Crisis hits the spot – well, with yours truly at least. Guide Santa and his Sleigh over a neighbourhood to deliver all the presents to the kids houses whilst avoiding the many aircraft and other random flying objects that fly by. Santa for the win? Simple, just get a 60% hit rate, for the first level at least, and you're sorted. Quite an addictive game and it's really not as simple as I've just made out.
Download: http://www.koingosw.com/products/christmascrisis.php
Requirements: 10.3 or Later (Universal)
Christmas Super Frogger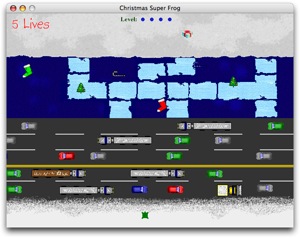 Developed from the same folks who brought to you the fabulous Christmas Crisis, it's Frogger in Christmas form – except that it's not really like that at all. Snow and a present is all that differs from this Frogger and the original but it's still got that element of Christmas cool about it. Guide your little reptile from one side of the road to the other without getting squashed by one of the many vehicles and grab the present to gain and extra life and move onto the next level. Easy! Except that it does get stupidly difficult after the fourth level – you'll see what I mean.
Download: http://www.koingosw.com/products/christmassuperfrog.php
Requirements: 10.2 or later (Universal)
Themes
Before we get into the themes, you're going to need two tools. One is a theme changer called ShapeShifter, the other is an icon changer called CandyBar and Pixadex. If you don't know how to use any of these tools then simply take a look at a couple of guides I wrote earlier this year. You probably won't need them though as it is all rather simple, but just in case:
Customizing OS X - Themes
Customizing OS X - Icons
Twistmas Candy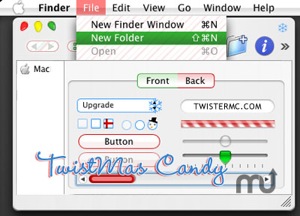 Developed by a guy known as TwisterMC, the theme is based upon Aqua (OS X's default theme) but with a slight Christmas 'twist'. With a combination of red and green buttons and drop down lists, the candy cane stripes for things such as the download progress bar and snowflakes to give it the finishing touch, I can promise this theme will get you and your kids in the mood for Christmas. I've seen quite a few other themes out there but this is one of the best.
Download: http://www.twistermc.com/shake/Themes-TwistMas-Candy.php
Requirements: ShapeShifter 2.0 and OS X 10.4 or later
Next, you're going to need a set of icons.
Icons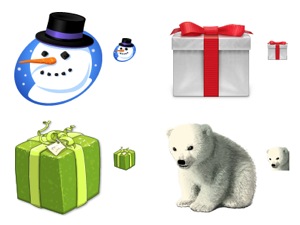 No theme would be complete without a little festive cheer on your icons. Unfortunately I couldn't find a complete set for the entire system, but as this is surely only a temporary thing, I don't see it as being much of a problem. A few sets I've found can be seen below, but my favourite belong on http://www.watiworks.com with Aqua Christmas being my default set for the cheery month ahead.
Used with CandyBar, simply drag each icon over the icon you wish to replace. So, for the festive month, if you'd like Santa to be your hard-drive with Frosty the snowman (well, it's just a snowman) as your Finder icon, then so be it.
Of course, not everyone celebrates Christmas, so the following link will take you to some Kwanzaa icons. Unfortunately icons for Kwanzaa are pretty limited on the internet, especially for OS X, but there are a few here to tickle your fancy.
Download: Aqua Christmas, Noel 2003, A Christmas Story, Happy Holidays
Requirements: CandyBar OS X 10.4 or later
Wallpapers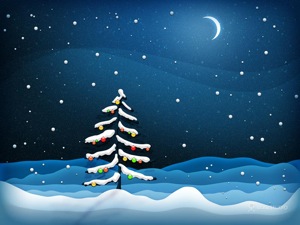 Every year I turn to Vlad Studio for my Christmas wallpaper fix, as well as other times of the year. The image above is my favourite, mainly because the lonely tree sets a reminder that a lot of people are alone at this time of year and they probably shouldn't be forgotten, but mostly because there's snow present in the picture, which is more than I'll be seeing in London this year. If you share the same appreciation for images as I do, then you'll likely want to download the above wallpaper from here. Vlad Studio also includes a wide range of Christmas desktop wallpapers, ranging in size from 800 x 600 to 1600x1200 and up to 2560x1600 for registered users.
Wallpapers are without a doubt one of the two easiest things to change on a Macintosh, Screensavers being the other. For those that have forgotten though, right click on your desktop and select 'Change Desktop Background' to change your wallpaper – you'll also be able to change your screen saver from this menu.
Download more: http://www.vladstudio.com/wallpapers/?keyword=christmas
Screensavers
I trawled high and low for a decent Festive screen saver and I decided that sticking with the most simple is probably the best idea. A few I found included a rather questionable looking snowman hobbling about a field, another showed Santa charging toward the screen like he was going to hit me with a large candy cane or mince pie. However, simple snowflakes' falling elegantly was the one for me.
SnowSaver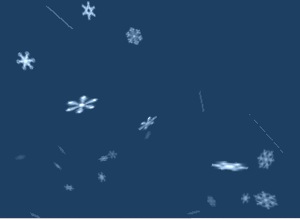 You're able to customize the amount of fog, number of snowflakes falling, the size of snowflakes and in what depth before setting SnowSaver as your default screensaver. It's definitely got a cold feel to it and, as I said before, was the only one I could really find that set the mood for Winter.
Download: http://www.versiontracker.com/dyn/moreinfo/macosx/17314
Requirements: OS X 10.1 or later
Extras
To really add over-kill to the whole festive theme, why not add a bit of Snow to your desktop. Okay, for half of the world, the festive month means lovely warm weather, but the rest of us are left with beautiful white snow (except in London). Sno is a "useless application", according to its developer, which produces a snow shower over your desktop. It doesn't seem to slow OS X down and it doesn't get in the way at all. Just therapeutic snow falling in the background. A screensaver is also included.
And last but not least, a Christmas tree on your desktop. Enjoy!