Review: Echo One software
The Apple platform is blessed with many many great software developers. A lot of them have a well-known product, but then have some other gems that go unheard of. One such developer is Henrik Dalgaard.
Background
Henrik develops software under the banner of Echo One. He has three products
Attesting to the popularity of these applications, Echo One has seen around 90,000 downloads from Version Tracker and Mac Update, with excellent user ratings for the three applications.
Henrik is inspired by the likes of Seth Godin and Guy Kawasaki, and especially values Seth's Free Pizza Inside and Unleashing the Idea Virusas inspirations. His ambition is to continue developing software to improve the Mac user experience.
Double Take
Double Take is a photo stitching application. You've taken a series of photos to form a panorama but rather than print and align them manually, you want to join them together using some sort of software. Double Take is one such application, and at $12 it is reasonably priced.
In action
Double Take works simply by dragging and dropping the photos in the panorama onto Double Take's drop zone. Here I've used 5 photos from the beach we go to each summer.

With some tweaking of exposure, brightness and alignment, the picture is soon almost perfect :

And when I printed it out, it looked perfect.
To help with matching, other adjustments can be made to the colors and to the geometry of the images.
Shortcomings
The initial auto stitch could be improved a little and the algorithm needs to be tweaked to help lessen the darkening on the overlapping areas. Also, although you can make one-dimensional vertical or horizontal panoramas, it can't cope with two-dimensional ones (eg 2x2).
Double Take is currently at version 2.0b1, which although being a beta seems to have no major problems.
Overall
Double Take does a good job, but because its auto-stitching capabilities and one-dimensional panoramas are less then ideal, I've marked this one down to an 8 out of 10.
File Juicer
File Juicer is an impressive utility that extracts images, video, audio, and text from within files, packages and folders. It is the application Echo One is best known for, and one that every Mac user will need sooner or later. Just look at the list of things it does:
Extract images from a PowerPoint slide show.
Extract images from PDF files.
Recover images and video from erased flash cards
Recover text from damaged files
Extract CAB files from Pocket PC self installing EXE files
Extract the images and HTML files in Safari's cache (and other browsers).
Extract attachments from email archives.
Convert iPhoto's iPod cache files to TIFF.
Extract Flash animations saved in .EXE files.
Convert ZIP files which have been saved as .EXE files to zip.
Extract the JPEG pictures from Canon's RAW files.
Extract System 7 Sounds
There's something on that list for everyone. The one that stands out for me is extracting text from files - corrupt Word documents for instance, or old formats that no other current application can open.
In action
I'd always wanted to get hold of the background images Word uses in its graphs because I've never been able to find them in the resources and have often wanted to re-use them in Pages.
Using File Juicer is a simple matter of dragging and dropping the file or folder onto its drop zone. File Juicer than scans byte by byte for recognizable files and saves them into a folder on your desktop (this can be changed through preferences).

Several minutes later I had a folder of files categorized by type and in no time had found the background images I was looking for.
For my second test, I dropped on it an old resumé of my wife's, created in MS Publisher for Windows. Seconds later I had the full text of her resumé in a .TXT file—with all the extraneous code stripped out. How much retyping could that have saved her?! (Let's not tell her!)
I got hooked and played around with it for about an hour, rescuing text I never thought I'd see again, from old Windows files.
This can be doubly useful, as Spotlight does not index unknown file types like .PUB or .WPD, but now I can strip the text out of them, save the text files and have Spotlight index them.
Shortcomings
I would like to see some of the preferences accessible from the processing window - maybe as an Advanced flyout. The most logical being able to select or deselect the files you want extracted. Currently you have to go into the preferences each time to change that.

Overall
Given the usefulness of File Juicer, it is a steal at only $9. It's one of those programs that does what it does and does it well. It's also one of those programs I now can't lived without. 9/10
iSwiff
iSwiff is a clever little application that enables you to play Flash games that you would normally have to play in a browser. And it's freeware.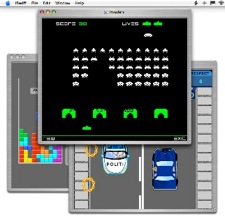 In action
I tried a couple of games and… doh! Okay, so I'm hooked.
Shortcomings
Besides being addictive, if you're in full screen mode and you do something your Flash settings say is insecure, a message will pop up, only you don't see it. As you then can't get out of full screen or switch applications, you'll have to press Command-Option-Esc and then press Enter.
Overall
Give iSwiff a go if you can afford the time… 8/10