Developer Review: Stunt Software
Stunt Software develops several productivity applications and utilities, including Overflow, the best application launcher available for the Mac.
Background
With an interest in Cocoa programming and a degree in computer science Canadian, Dan Messing, started Stunt two years ago, whilst by day also employed as a Cocoa programmer. His first application was Downsize and he says:
I released Downsize mainly as an experiment to see if it was possible to make any money selling software on my own. That was long before I'd heard of micro-ISVs or realized that there was such a thriving small developer community on the Mac platform.
Although providing contract programming services, Dan's main objective now is Stunt Software and the development of high quality Mac OS X applications:
I'd like to think I set my applications apart by focusing on quality. I really focus on the design of the user interface, and think about how the user will interact with the program. It's not enough to create an application that gets the job does, it has to feel "right" to me. Right being Mac-like, and having an interface that doesn't get in your way.
Using Stunt's software you will find that goal has been achieved.
Overflow
When your Dock is overflowing with applications that you want to quickly and easily find, what do you do? Overflow provides the solution. It is a neatly laid out palette of applications, folders and even documents. Resizable, and with only the icons you want on it, it quickly becomes indispensable. With Overflow, you are only ever two clicks (and no scrolling) away from your favorite applications, folders or documents.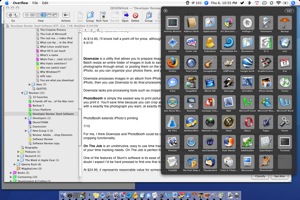 I've been running Overflow for a couple of weeks now, and I couldn't live without it. If Apple ever decides to do an application launcher, Overflow is how it will look.
Unlike placing the Applications folder on the Dock, with Overflow you only see what you want, not everything, not every application, document and folder in that folder.
If you look at my screenshot of Overflow in action, you'll see I've placed 55 icons on it. When you consider that there are 78 items in my Applications folder, 105 in my "Add-ons" folder (apps I've added) and 33 in the Utilities folder, you can quickly see why Overflow is so much better than the Applications folder on the Dock.
Items can be added to the Overflow palette by either adding via the editing function, or dragging and dropping to the Overflow icon on the Dock or to the palette. Once you're all done, you can also perform an alpha sort: display the filenames if you want and resize the paletter as desired.
My Dock used to be cluttered with not only the 20 or so applications I'd have running, but that many applications again that weren't running. With Overflow, I ditched all those in the latter category. My Dock now only has running applications on it.
In use, Overflow is as simple as clicking on its Dock icon, and clicking on the icon on the Overflow palette for the application, folder or document you want to launch. Overflow will disappear as soon as you click an icon or on any other part of the screen.
One other thing to like about Overflow is its very easy on the resources.
Shortcomings
A couple of things Overflow could use are a global shortcut key to bring it up; and the ability to sort by type, so folders, applications and documents would be grouped.
Overall
At $14.95, I'll knock half a point off Overflow for price, although multiple purchases are only $9.95 each, so go in with a mate and get one each. 9.5/10
On The Job
Although with a name that will draw smiles from those familiar with certain euphemisms for coupling, On The Job is a very well equipped time tracking and billing application. OnTthe Job would undoubtedly rate as one of the easiest to use applications of its kind. The straightforward interface and the ability to swap timed tasks simply by clicking on them while the timer is running, makes using On The Job effortless. As well, being able to generate invoices in PDF, Text, XML and CSV formats is a real bonus and although I don't have a need for it at the moment, just in testing On The Job I wished I could find a use for it in my day.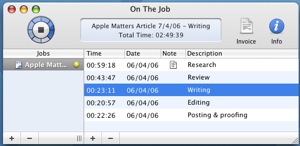 On The Job is a flexible tool that could be used for any situation where timings of multiple tasks is required.
Shortcomings
There are no shortcomings of any concern although some people would want different invoice templates and custom defined ones.
Overall
At $24.95, On The Job represents reasonable value for someone requiring this type of software. 8/10
Other Software
Stunt Software also develop two other applications, Downsize for scaling and watermarking images, and PhotoBooth for cropping and printing images. Both provide direct access to iPhoto's albums and can also access photos in any folder. Although iPhoto provides some of this functionality, these apps extend that. Personally, I don't have much of a need for either of these, and I am concerned about their pricepoints. I think Stunt would do well to combine these into one application and sell them at around $19.95.