Color StyleWriter 2500
Introduced: February 1, 1996
Terminated: 1997
Description
The Color StyleWriter 2500 was an ink-jet printer that used the QuickDraw interpreter. Communication options included a serial port, and optional LocalTalk or Ethernet. It could print five black and white pages a minute or one color page in three minutes with a resolution of 720 x 360.
History
Another color ink jet printer in Apple's StyleWriter line, the StyleWriter 2500 was modeled after a Canon Bubblejet printer. It looked similar to the StyleWriter 2400, but boasted faster printing.
The LocalTalk or Ethernet options were available as networking upgrades. Users could also purchase a PhotoGrade kit that used special inks, cartridge and paper.
Photos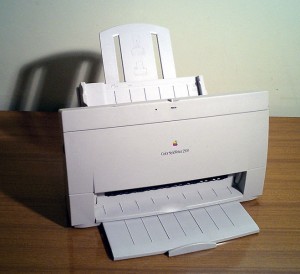 Specifications
Type: Thermal ink-jet
Processor: None
Processor Speed:—
Language: QuickDraw
Colors: 4
Connection: Serial, optional LocalTalk or EtherTalk
Pages Per Minute: 5 black and white, 0.3 color
DPI: 720 x 360
Cartridge: High Performance Black: Apple M3240G/a or Canon BC-20 Black. Color: Apple M3328G/a or Canon BC-21, Black: Apple M3330G/A or Canon BCI-21 Black, Color: Apple M3329G/A or Canon BCI-21 Color, Color PhotoGrade: Apple M5579G/A or Canon BC-22
Power: 27.6 W
Weight and Dimensions (US): 6.9 lbs., 8.3" H x 14.4" W x 9.2" D
Weight and Dimensions (Metric): 3.1 kg, 21.1 cm H x 36.6 cm W x 23.4 cm D
Timeline
Introduce in February of 1996, the Color StyleWriter 2500 was discontinued in 1997.
Videos