Wireless Speaker for the iPhone
I've always wanted a way to play audio from my iPod or my iPhone on wireless speakers, and with the iPhone's new 3.0 iPhone update I thought that I just might get my wish. After all, enhanced stereo streaming and control capabilities for Bluetooth A2DP devices like headphones and speakers is one of the 3.0's key features. Because my dream has been total wireless connectivity, I set out to find a portable speaker unit that would help me realize that dream. But I found only one product on the market.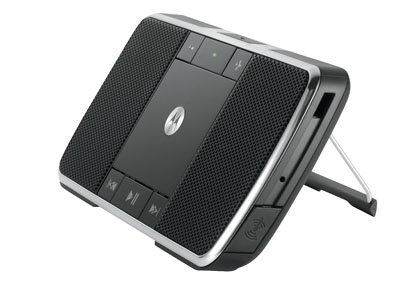 Here are the specs for Motorola EQ5 Portable Wireless Speaker:

Play Time: Up to 8 hours
Battery: Rechargeable, non-replaceable
Weight: 100g
Dimensions: 116 x 65 x 15 mm
Bluetooth2: Version 2.0 +EDR, HFP1.5, A2DP1.2, AVRCP1.0
Codec Support: SBC, MP3
Features: Bluetooth wireless technology
Pocket-sized, sleek form-factor
Speakerphone and controls for hands-free functionality
Noise-reduction and echo-cancellation technology for clear communication
Bass ports for improved sound
Discreet desk-stand
3.5mm jack to connect to non-Bluetooth enabled music-players
Micro-USB connection for charging and power

The black and silver design of the unit is unobtrusive, and it's about the same size as the iPhone itself. Plus there's a little flip-out kickstand that provides hands-free functionality. Another nice feature is that you can switch between iPhone speakers and the Motorola wireless speakers without having to open up the settings menu on the iPhone.

The audio level is better than the built-in speakers on the iPhone, but not dramatically. You need to push and hold the volume button for several seconds in order to get the highest volume the speaker can produce. And it can get quite loud, but the sound is far from sharp.
Moreover, there's a latency problem with the Bluetooth frequency, so the audio does not sync well with video streaming from the web. Also because the iPhone's Bluetooth feature doesn't allow remote control capabilities, you can't control the sound volume on the speaker from the iPhone itself.
This speaker is ideal for playing low-quality audio such as YouTube videos iPhone syncs well to this speaker device. But if you want larger speakers with better sound quality, you need to look elsewhere.
Is there anyone else out there who's tried this product or knows of something that might serve my needs better please let me know!