Two Useful Photo Apps for Shutterbugs
There are several dozen iPhone apps for taking and editing photos, and in the last few months a handful of video capturing apps for the iPhone 2G and 3G have made it to the iTunes Store. It's impossible to compare and contrast them all, but one imagemaking app stands out.
By combining both still camera and video into one program, Global Delight's Camera Plus Pro ($1.99) seems to be a well-designed and fairly easy-to-use Photo+Video app that deserves to displace a few similar apps you may have on your iPhone.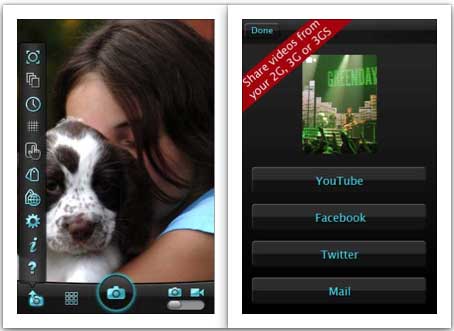 Camera Pro is jampacked with features, including digital and point zoom, timed capture, burst mode, photo tagging, and "big button" shutter release. The latter feature allows you to tap anywhere on the screen to take a photo. This is great for self-portrait or close-up captures.

The editing features are equally awesome, including crop and rotation tools, exposure adjustment, various photo filers, built-in geo-tagging, and several options for sharing your photos online. It also allows you to manage your photos and video captures within its browser, where they can also be moved to the camera roll on your iPhone.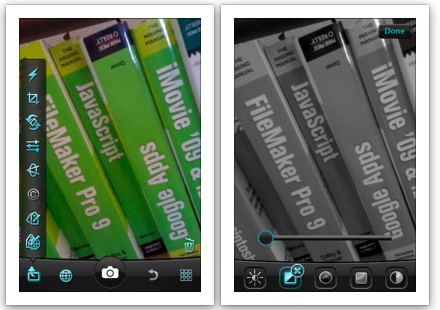 With one switch of a button, you can go from taking still images to doing video captures. Video captures set for high resolution (320x426) in this app can be recorded for around a minute, while low resolution (160x213) has no limits. The high resolution quality is decent for quick video captures. In the current version of the app, it can only support .mov format. The company plans to support other formats in future updates.

Camera Pro has made it to the homepage of my iPhone, replacing three camera and video apps that I previously used. Similar apps will find it difficult to compete with Camera Pro.

Rick Sammon's 24/7 Photo Buffet
For beginning and possibly intermediate photographers, Rick Sammon's 24/27 Photo app ($5.00) actually puts an instructional photography book on your iPhone or iPod touch. This is not a camera app, it's a multimedia guide.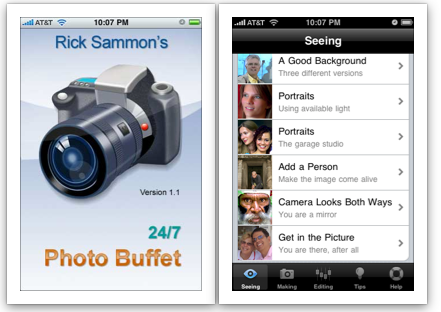 Sammon is a prolific photographer and writer, whose articles and photos can be found in publications like PC Photo. He's also the author of numerous digital photography books. To develop his app, he's pulled together many of his well known photos, tutorials, and tips into an easy to navigate application.

Photo Buffet includes tips and how-tos on people, portrait, and landscape photography, as well as examples about composing and framing shots. Ironically, though, I think Sammon's photos almost overwhelm the written instructions for some topics, which are no more than a paragraph or two. Each topic in this section includes an interactive photo illustration that illustrates what is described in the text.

The "Making" part of the app is much better. This section includes well-written explanations for often difficult topics about photography, such as understanding exposure and metering techniques. He provides recommendations for various ISO, White Balance, aperture and shutter speed settings for different shooting situations. All the information can be found in a good photography book or on the Internet, but it might well be handy as a guide on your iPhone.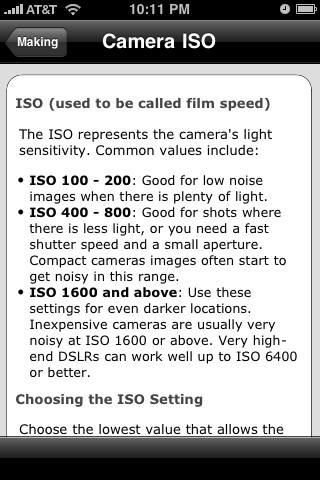 Photo Buffet is a whopping 100mb download; all the content is self-contained in the app, requiring no Internet connection for reading or viewing. This might be a turn off for some potential customers, but Sammon does attempt to pack as much information as possible into the guide.

The third section includes a dozen-plus tips on special shooting situations like night and fireworks shots, sunrises and sunsets, underwater, and even suggested techniques on photographing the moon. These tips are more detailed than the first section; beginning photographers will most likely find these tips very useful and accessiable. It looks as though other tips like these will be added in future updates.

As you might imagine because of the app's size, it also includes several video tutorials on topics including soft portrait lighting, fill flash, adjusting white balance, and taking true high dynamic range (HDR) shots. There's also information about camera equipment and photo editing. The last two topics might be overkill, but I would guess that Sammon is trying to make the guide as comprehensive as possible.
I would recommend Photo Buffet if you're new to and are interested in digital photography. I found parts of the app as informative as many short books and magazine articles I've read on the subjects. If you don't mind the app's size, it's a useful resource.