TiVo for the Internet Radio
In a fairly recent column, 10 Ways to Stay Within an iTunes Store Budget, I suggested using Internet music sharing sites to listen to and download free music as a way to build your iTunes library. While we should always support musical artists by purchasing their work (and I do!), our budget for music may not always allow us to make as many purchases as we would like. Luckily, th Internet provides lots of free offerings, and it also exposes us to new artists and songs we might otherwise never hear.

Well, recently I discovered a useful application for not only listening to radio stations over the Internet, but also to record and save music to iTunes. The application is called Snowtape. Not sure why it's called snowtape, but I easily understood how to use it.

Snowtape is a simple to use application that downloads hundreds of Internet radio stations into its directory and allows you to listen to, record, and edit the audio length of selected songs.

TiVo for the Radio: How the Recording Works
Recording streaming music requires simply pushing the red button. You can record music in the background, and if your Internet bandwidth and your computer can handle well the streaming of music, you shouldn't have problems recording music while working in other applications. This is how the recording works: "During a recording Snowtape can identify audio track boundaries automatically for you. This works by tracking the stream titles that are transmitted by internet radio stations. If the stream title changes and Snowtape thinks that the new title marks a new audio track, then Snowtape automatically ends recording one audio track and starts recording a new one. Since this feature heavily relies on the transmission of these stream titles it may be happening that Snowtape splits an audio track where it shouldn't have done it. E.g. some radio stations change their stream titles rapidly to display commercials. Now in some cases Snowtape can detect this. If it fails to do so it will split the audio track everytime the station displays the commercial. If this is the case you can deactivate automatic cutting in the preferences."

Album art and detail information about the song are also downloaded for each recording; that is, if the station provides that information. Google searches from within the application can be done to find artwork that might fit a selected recording. And songs can be exported to iTunes where a playlist is automatically created to collect all songs imported from Snowtape.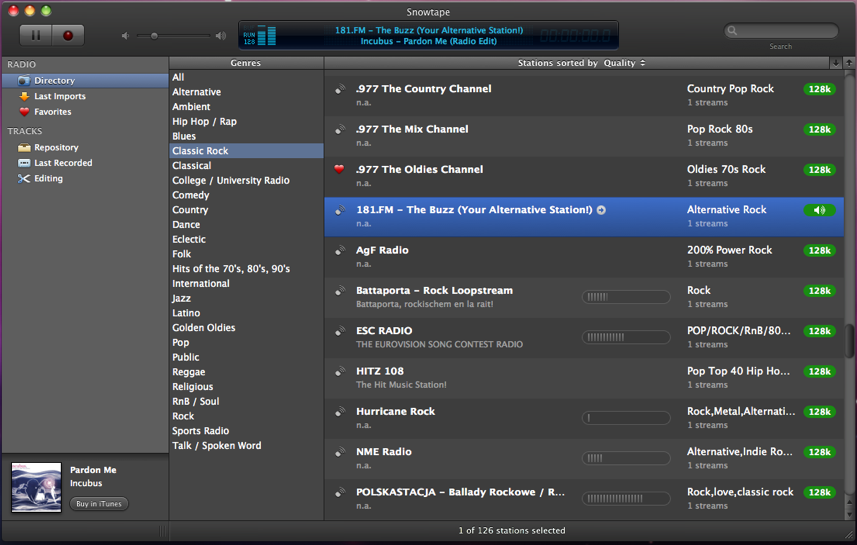 You Get What You Pay For
Listening to and recording music from the radio comes with of course some caveats. For you audiophiles, the recordings are in ACC format, so you might be put off by the quality of recordings. Even my daughter noticed that the audio quality of the songs recorded with Snowtape when played on her iPod are not as good as songs you purchased say from iTunes. Also, Snowtape is supposed to "identify potential commercials or interludes," but that doesn't always happen. There are also times when there's D.J. voiceover at the beginning or ending of songs which cannot be edited out.

You can edit the information and length of the songs. But you can only edit the beginning or the end of a recording. If two songs are played back-to-back with no pause or title separation, there doesn't seem to be a way to split the recording in the editing pane. If you leave the record button on for say a couple an hour or so, you may need to go back through individual recordings and see which ones you want to keep, edit, and delete. Some stations simply do not tag songs with detail information. One station I listened to tagged each song with just its station name. Finally, as you may expect, music streams can crash at anytime, and they do. Some stations are weaker than others, so don't expect this application to be perfect.

But I don't think these "shortcomings" are an issue because we're essentially listening to music for free. If we want better than that, we should pay for it. And that includes supporting many of the public listener supported stations that you might listen to (or rely upon!) on a regular basis.

I don't plan on doing a lot of editing of songs or even sorting them out; this is, until my collection grows to the point that it needs to sorted out by say genre. I can't foresee recording a significant collection of songs by the same artist, so there's little point of trying. I have, though, found a nice ambient chillout station, in which I've allowed the recording to go on for a few hours while I was both at and away from my computer.

Songs played on the radio station have always been a great way to discover new artists and cuts, and if the music is good enough, we should be inspired purchase other songs by the artists we've heard on the radio.

The free demo of the application does limit the amount of recordings you can do, but it allows you to get an idea of the type of Internet radio stations and content that are currently available in Snowtape's directory. The license for Snowtape is $29.

The developer plans to add support for simultaneous and scheduled recordings, which will probably appeal to users of the application like my daughter who really took a liking to Snowtape once she figured out how to use it.

For those of you think that music sharing applications like Snowtape undercut artists and the music industry, you will be glad to know that recorded songs in Snowtape come with a direct link to the iTunes Music Store where you can make a purchase. But Snowtape is not a rip off of music. It's simply TiVo for Internet radio. It will probably never be anyone's single source for music, but it is a nice addition to digital music revolution.