Tiger: Want Vs. Need
I am constantly dealing with the want vs. need debate. Some things are easy to determine. Toilet paper? That's a need. That $5000 Baume and Mercier watch I have been lusting after for half a decade? That's a want.
My bio says I am a lover of gadgets and all things Apple. What it fails to mention is I am a lover of gadgets and all things Apple with a limited budget. And while making the decision to buy toilet paper is easy, every time the item in question is Apple or gadget related, my Want-O-Meter gets wacky and all of a sudden I feel I need it. Mind you, I feel incredibly fortunate that I can afford to have this debate. I realize some people deal with decisions between "need" and "need more" every day, and I am thankful I don't need to do that. Of course someday I would like to deal with the decisions of "want" and "want more" but I'm a ways off.
Apple has a way of creating products that blur my lines of common sense and practicality. For instance: When buying my iPod I convinced myself I needed an iPod so much so that I bought it a few weeks before Christmas. It turns out my wife was planning on buying it for me for Christmas. Sure I could have waited, but my Discman was too bulky and who listens to cds anymore! See, I'm doing it again!
So this brings me to the subject of Tiger. I'm not sure I need it. I know I want it. When Jaguar and Panther came out, it was a no-brainer for me. Go to the Apple Store the day it comes out, buy it, and install it same day. I didn't balk at the $129 price tag (still very reasonable). I didn't move money from savings or think about selling some baseball cards. Of course that was 2 houses and 2 kids ago. Now I carefully scrutinize every penny and the more I wait on buying Tiger, the more I feel the sense of need drain away from me.
In an ode to my colleague, Mr. Seibold, I have produced the following chart: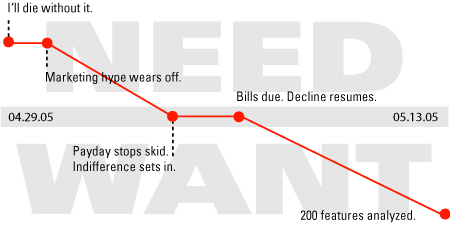 As you can see, I am at the point of indifference to buying Tiger. This decision was not determined by money. The conversation was started because of money. Out of 200+ new features of Tiger, how many do you think you would need to want to justify buying it? 50? 100? Or maybe you are in the camp of "It's new and you have to have it."
The more I looked at the "200+ New Features" of Tiger, the more I realized there are only a few "features" that I "need". Here are all the advertised Tiger features placed in my Want and Need categories:
Address Book
Want: Auto-Update LDAP Cards, Actions, Certificate Support, File Formats, Dashboard Widget, Envelope Printing, Pocket Address Book Printing, Sharing, Smart Groups, Spotlight Contact
Need: Contact Import. At last I can import my Excel sheet to my address book!
AppleScript
Want: AppleScript Utility, Code Sense for AppleScript, Dictionary Viewer, Data Events Suite, XML Suite, Property List Suite, System Info Command, Secure Display Dialog, Improved Display Alert I don't really use AppleScript. But I certainly want to.
Aqua
Want: Calculator Widget, Dashboard Keyboard Activation Preference, Dashboard, Calendar Widget, Dictionary Widget, Document Properties, Enhanced Dock Menu, Flight Tracker Widget, Grapher, Improved RAID, iTunes Widget, List Support, Phone Book Widget, Programmer Base 10 math Calculator, RPN Calculator, Scientific Calculator, Smooth Scrolling, Spotlight in Open / Save Panels, Spotlight Menu Hot Key, Spotlight Menu, Spotlight Service, Spotlight Support for Network Homes, Spotlight Window, Sticky Note Widget, Stock Widget, Table Support, Tile Game Widget, Translation Widget, Unit Converter Widget, Weather Widget, Word XML Format, World Clock Widget, .Mac Member-Exclusive Widgets
Need: Dictionary Application, Disk Utility Improvement, Save as HTMLThe dictionary app sure beats checking Dictionary.com or (gasp) the actual printed version. And any improvements to Disk Utility and Text Edit are ok in my book.
Audio
Want: 64-Bit Audio File Format, Device Aggregation, iSight Integration Although I like the idea of the iSight audio integration, I always get excited about the iSight and after a 2 week honeymoon of heavy video chatting, I lose interest.
Bluetooth
Want: Bluetooth File Transfer, Bluetooth Headset Support, Bluetooth 1.2 Specification Support I'm sure this is great for people who have bluetooth enabled devices. I'm not one of them.
Developer
Want: AppleScript Studio Enhancements, GCC 4.0, Quartz Composer, Xcode 2 Like AppleScript, I have no use for developer tools. That's just not what I do. But I would certainly like the ability to learn it should the opportunity arise.
DVD Player
Want: Equalizer, Enhanced Bookmarks, DVD Navigator, DVD Video Clips, DVD Video Color Controls, DVD Video Zoom, Dock Icon How many DVDs do you watch on your computer? This is another case of, "nice-to-have" and not "need-to-have".
Faxing
Want: Fax Logs and Archives, Fax Status Menu My existing fax machine does just fine.
Finder
Want: Burnable Folders, Metadata Info & Preview, Spotlight Find, Spotlight Results Group View
Need: Finder Slideshow, Smart Folders Sure, there are freeware apps that do slideshows already but this is something that is long overdue. As for Smart Folders, I have done perfectly fine without them but this is just way too cool to not need.
Font Book
Want: Scriptable Font Book, Advanced Font Validation, Font Export, Font Libraries, Spotlight Font Search Until the features of Font Book include "Stability for Font libraries over 5000 fonts", I'm not interested.
Graphics and Media
Want: Core Video, New Fonts Character Search, Dictionary Service
Need: Core Image, Automatic Font Smoothing Pixel accurate rendering and font smoothing is music to my ears.
iCal
Want: Auto Event, iCal Birthday Calendar, iCal Calendar Groups, Calendar Printing, iCal Automator Actions, iCal Notifications Box, Spotlight Events I still don't use iCal. I'm sure it's great. I just prefer to use a calendar that i can physically turn pages on.
iChat AV
Want: Switch to…, AIM Profiles, Buddy Controls for Parents, Buddy Groups, Jabber Support, Multi-person Audio Conferencing, Multi-person Video Conferencing, iChat and iTunes Integration, Improved video quality with H.264 I admit, my jaw dropped when I saw the iChat conferencing during Steve Jobs' MacWorld Sf keynote. But…See the comment for iSight above.
Image Capture
Want: Wireless Image Capture Very nice. If you have the devices. Again, not me.
International
Want: More Languages and Scripts, Better Keyboard Support, Chinese Conversion Great for international businesses. You guessed it…again not me.
Mail
Want: Auto ISP Setup, Customized Compose Options, HTML Message Composition, iCal Invitations in Mail, .Mac Email Alias Support, Mail and iPhoto Integration, Mail Connection Doctor, Mail Controls for Parents, Mail Server Quota Management, Message Priorities, New Mail User Interface, NTLM v2 Authentication, Per-account signatures, Photo Controls in Mail, Slideshow in Mail, Smart Mailboxes, Spell Check Options, Spotlight Search in Mail, .Mac Sync for Mail Settings All those who receive tons of photos that would warrant these features in their email instead of just getting links from your family to Shutterfly or oFoto raise your hand. Anyone? Anyone?
Mobility
Need: Automatic Power Profiles, Automatic Projector Mirroring, Network-based Home Directories Yes, yes, and yes! Then again, my primary machine is a Powerbook. For my Imac, not sure I care.
Networking
Want: NTLMv2 Authentication for SMB, Secure WebDAV, VPN on Demand, Xgrid, AirPort Preferred Networks, Kerberos VPN Support
Need: Network Diagnostics A diagnostic tool is exciting. As for the others, how many general home users out there need Xgrid or features for multiple Airport networks?
Preview
Need: DNG File Format Support, JPEG 2000 Support, OpenEXR Image Format, RAW Camera Image Support, Image Correction, PDF 1.5 Document Compatibility, PDF Annotations, PDF Forms, Preview Screen Capture, Preview Slideshow, Image Keywords I use Preview more than any other program these days. I am really excited about these enhancements.
Printing
Want: Buy Printing Supplies, GIMP Printer Configuration, Secure Printing I'm still rubbing my eyes. Did Apple really put "Buy printing supplies" as a feature?
QuickTime 7
Want: Automatic Bandwidth Detection, Live QuickTime Player Resizing, QuickTime Fullscreen Controls, H.264/AVC Video Codec for QuickTime 7 Until downloaded quicktime files fail to play, I won't lose sleep over not having these features.
Safari RSS
Need: Archive a Web Page, Bookmark Search, Email Web Page or Link, Export Bookmarks, Inline PDF Viewing, Private Browsing, RSS Auto Detection, RSS Bookmarks, RSS Update Notification, Safari RSS View, Safari Website Controls for Parents, Security Certificate View, Improved Safari Performance, Safari and iPhoto Integration You Firefox users are running out of excuses.
Security
Want: Certificate Assistant, Firewall Log, Firewall Stealth Mode, Government Smart Card Interface Standard (GSCIS), Safe Downloads, Secure Virtual Memory, Smart Card Authentication, .Mac Keychain Sync, Address Book Support for Certificates, Keychain Import/Export, Password Helper, Forgot Password, Keychain Access, PDF Encryption At this time i am finding the biggest piece of wood I can find and am knocking on it: Security doesn't really concern me. I'm sure the good people at Symantec have a lot to say about that though.
System
Want: About This Mac, Apple Remote Desktop 2.2 Client, Integrated Sync Services, Safe Launch, System Profiler Improvements
Need: Adaptive Screen Dimming, Burn Disk Images for Other File Systems, Battery System Menu, Improved Energy Saver Preference, Migration Assistant, Automator The burning disk images for other platforms is huge. And the Migration assistant s very valuable for chaps like me who are hanging onto older Macs.
System Preferences
Want: New .Mac System Preference, iTunes Album Art Screen Saver, RSS Visualizer Screen Saver, iPhoto Desktop Pictures and Screen Saver, Desktop Pictures, Spotlight Preferences, Target Disk Mode, iSight Integration, Searchable System Preferences All fluff. I suspect Apple had 182 new features and were trying to make it to the milestone. I guess these are more legit than "Buy printing supplies".
Universal Access
Want: VoiceOver Spoken Interface, Scalable Cursor, Ignore TrackPad Input Great features for the less than .00001% of users who would need it.
UNIX
Want: Spotlight Command Line Tools, Fine Grain Locking (SMP scalability), Access Control Lists (ACL), HFS+ CLI file commands, Korn Shell, Remappable Modifier Keys
Need: 64-bit Virtual Memory This is huge. I think. Well, it sounds good. And besides I haven't needed anything in awhile.
Windows
Want: SMB Symlink Support I don't care about Windows.
So there you have it. Out of 200+ features, there are really only 44 features that I feel I truly need. Will someone please tell me that I am overlooking something and I really do NEED to buy Tiger?