Top Three Multi-Network IM Clients
A few questions I had to ask people before buying my first Macintosh included, "Will I be able to use similar software that I've been used to on a PC?" and "Can I still talk to my friends over MSN and Yahoo?" Everyone will know the answer to both those questions already, but for a time, since migrating over to the OS X system, I was a little confused over which IM application to use, especially as I really wanted one that handled all the major networks. I didn't fancy using Microsoft Messenger and Yahoo Messenger because they are both virtually non-customizable, have a sort of "chunky" feel to them, especially Microsoft Messenger, and are both practically featureless (although kudos to Yahoo for including web cam support).
So if you're an IM user wanting to use various chat networks on one application, which is best? In truth, the ones listed below are all fine for chatting to friends and sending/receiving files. It's more down to how you want your IM app to behave and what features you want. I'll do my best to squeeze in the best of those features from each of the three applications I've listed below.
Adium X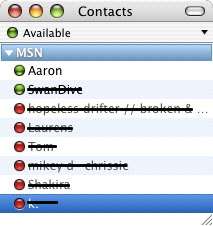 A brilliantly customizable IM application that supports AOL, Jabber (Google Talk etc), MSN, Yahoo, ICQ, Gadu-Gadu and Bonjour protocols and the more business aimed networks such as Lotus Sametime and Novell Groupwise.
On first download, Adium X appears to be rather boring, but underneath the hood hides a variety of excellent features and customization options that makes Microsoft Messenger incredibly jealous.
Tabbed messages allow the user to keep chat windows in one main window underneath separate tabs, and changing between conversation is a piece of cake with the  + ⇔ keys. You're able to organize your chat windows so that different groups sit within different windows, but if you'd prefer to stick to the standard method of having multi-windows for different chat session, you can do so.
It's possible to customize the look and feel of virtually every aspect of Adium X from contact and message styles to sound notifications and dock menus and it's so easy to do too. A direct download and install of themes and schemes can be obtained from the official website, nearly all of which are submitted by other Adium users, allowing less time fiddling about with things and more time actually chatting.
Another two things that tickle me about Adium X is the live spell checker and OTR encryption (to stop others 'viewing' your messages), whilst holding a conversation with someone. The live spell check is automatic but seems localized to American-English. I've not yet found a way to rectify this for standard English. Web-kit message display, file transfer and communication with OS X's address book are another three notable features available. I'm also fond of the chat history feature as that's something I relied heavily on when previously using MSN Messenger on the PC.
The one downfall with Adium X is that there is no web cam support, neither is there an option for audio chat, two things which I crave on an IM client as I like to see my nephews every week or so growing up. Another annoyance I happened to notice is that if you're asked to accept someone to be added to your contact list, by default, the contact isn't added for you to view, forcing you to add the address manually, however, the contact that had originally asked to be added will still see you.
Overall, I prefer Adium X over the other two applications below. This is obviously down to personal preference, mainly because of the excellent customisation options, speed of use and ease of use.
You can download Adium X from AdiumX.com for free.
Fire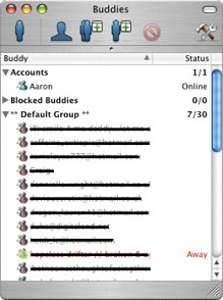 Fire was the first multi-network instant messenger application for the Mac OS X platform and was praised by Apple who labeled it a 'keystone application' on Mac OS X 10.0. It supports connections to AOL, ICQ, Yahoo, IRC, MSN, Jabber and Bonjour.
On first install, unlike Adium X, Fire appears more sleek in design with a pleasant OS X style interface. Fire almost reminds me of Microsoft Messenger in the way everything is set out, although it is slightly more customizable and certainly a much better application.
I noticed on the official website that there are far less customizations available for Fire when compared to Adium X, but this shouldn't put the user off from such a good application. Tabbed messages, file sharing, encryption are all available for the user, but one thing Adium X wins a brownie point for is there is no apparent live spell checker within the chat windows in Fire (again, something I want where others may not). Once more, no web cam or audio chat support for any of the protocols which is something I know will annoy many and unfortunately I don't know the reason for this. So feel free to leave a comment and fill me in.
I found that Fire was probably more suited to users who aren't so interested in customizing the look of their IM experience due to the fact that everything is pretty much already set up upon first use and is slightly more user friendly than Adium X. Although Adium X can be used right away, users will want to add themes and styles as soon as.
Along with most IM applications these days, Fire has a chat-history which works rather well with Spotlight.
Although not quite as flexible as Adium X, I do rate Fire highly, especially as the user interface on it is slightly better than Adium X and Proteus (see below).
You can download Fire from the Developers Website for free.
Proteus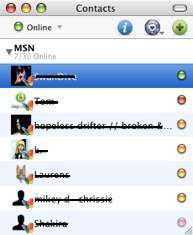 On first launch Proteus is more aesthetically appealing than Adium X, although still incredibly similar. Along with Adium X, Proteus works seamlessly with Mac OS X's address book as it's able to synchronize with it keeping your contacts organized and in one place.
Users are able to customize almost every aspect of Proteus from the buddy list, chat windows, sounds etc, although not quite as much as Adium. It's certainly similar to Adium in the way it looks and feels and the initial setup is much more user friendly giving you a pleasant guide to setting up accounts and preferences.
Again, no support for audio or web cam chat but the spell check feature, file transfers and chat history are all there. I'm surprised to see no data encryption available, something a lot of security weary folk out there may be concerned about and shockingly, the creators, Defaultware, are asking users to buy the product after an evaluation period. They nearly got me with the cute dog named Hamish (you'll see) who asks you to register, but with the likes of Adium X and Fire, which are equally good, if not better multi-network applications, why should we be forced to purchase this product? There's certainly nothing in it that persuades you to buy it, especially when you've got links to the other two applications above. Still, I'm sure a donation would be acceptable by some.
I should also probably mention that there is support for MSN, AOL, ICQ, Jabber, Yahoo, Gadu-Gadu and Bonjour protocols.
Probably my least favourite out of the three applications, although it's still a good multi-network client to use. With the likes of Adium X and Fire about, I'm surprised anyone would buy this product. Perhaps there's something special about it I've yet to discover. One thing I do give a thumbs up for is the good set-up wizard at the start which makes the application all the more user friendly.
You can download Proteus from Defaultware's website on a limited but fully functional trial.
I hope that's shed some light for the newer users out there as to which applications suite your needs and your comments are always welcome. I am also interested to hear what other Mac users use for a chat client, whether it be a multi-network application, the official chat applications for each network, or something else.