The iPod Mini Is Not Over Priced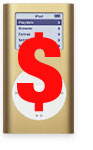 After watching the announcement of the iPod mini, and Steve's uttering "One more thing…" at the end revealing the 5 colors, I was struck by only one thing: why oh why isn't it $50 cheaper?
Sure the industrial design is once again, quintessential Jonathan Ive (I think we should really start giving Ive credit for hardware design, and not roll the kudos up to Apple Inc.) Sure the size is incredibly "mini." Sure the solid-state/buttons are slick.
I believe, initial reaction aside, that compared to other devices of this caliber and function: namely high capacity Flash memory players and Sony minidisc players it is very price competitive. In fact a point made in the Keynote was lost on many: Apple is going after the $200 market, and convincing those buyers that $50 dollars more will buy you a whole lot more. Most commentators are blinded by the fact the 15GB iPod is $50 more than the iPod Mini, odd because Steve Jobs never made the comparison (smartly) and specifically pointed to the lower priced market segment. By all rights the 15GB is a full $100 more than the market Apple is trying to mine.
Why are we so unconvinced by Apple's market and pricing research team? So easily we forget that the original iPod was roundly dismissed as "too expensive" at its introduction. That, while really well designed and unique, it was just way too high of a price. The original iMac befell the same criticism.
So the iPod Mini has the same criticisms and the same lauded design as the original iPod and iMac in the brief firestorm of comments across the web. The question is, will it be as successful?