Stanza & Borders: Two E-Book Apps For The iPad
With each new ebook reader for the iPad, developers and booksellers alike try to outdo one another with unique features and approaches, but I can attest that none is perfect. Each has a feature or two you wish were present in the one you use most often.
The two newest e-reader apps for the iPad are Borders eBook and Stanza, both of which includes an iPhone version.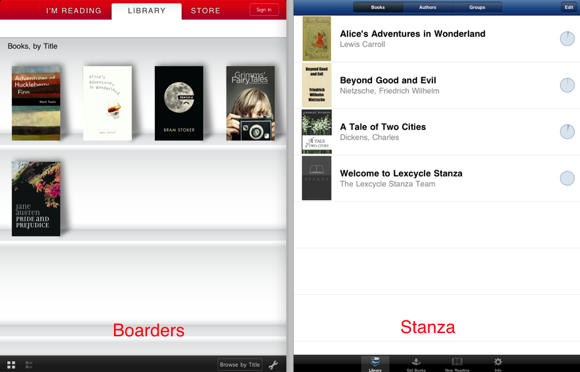 I won't go in to detail about each of these apps because they share many of the features I've covered in other reviews and how-twos. Each app delivers a friendly user interface on the iPad, though of the two, the Borders's Library home page is more elegant, but not as feature rich.
Each e-reader starts you off with a few free ebooks—both inlcude Alice in Wonderland, a competitive nod to Apple. The navigation of each app should be pretty familiar to iPad users by now. You tap the left and right side of the screen to move forward and backwards in the pages of an e-book. You tap in the middle of the screen to bring up book information or navigation controls. On my test, page turning is smooth and quick in both apps.
Each app has the familiar bookmarking and table of contents features, as well as the ability to change the size of fonts and background display.
They both also have an in-app connection to their book store, as well the ability to keep track of your downloaded books in your library.
For the most part, this is where the similarities end. So now let's look at a few unique features each app provides.
Stanza
First off, out of all the current e-reader apps for the iPad, the Stanza e-reader offers the most accessible collection of free e-books. If you're reading e-books on your iPad you shouldn't have to pay for well known classics like Tale of Two Cities or the Adventures of Mark Twain. The Stanza catalog has access to a wide variety of them, for free.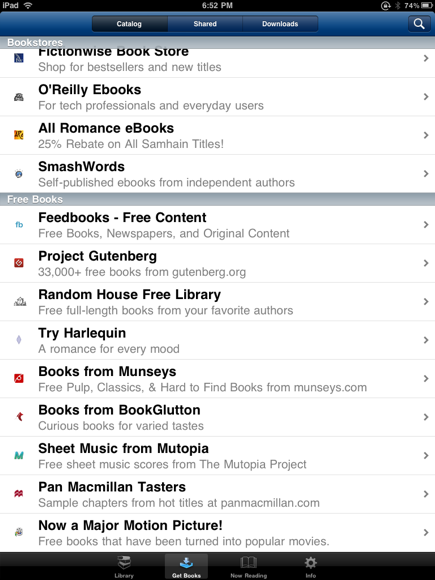 Stanza also offers commercial catalogs to publishers like O'Reilly ebooks, which has an extensive catalogue of computer related ebooks. Note, however, you don't establish a central account for purchasing books through Stanza. Each of its catalogs links to a different book seller and account.
When you download a free book, it might not come with an illustrated cover, but Stanza has that covered—no pun intended. It provides a direct link to downloadable book covers. You can also add a custom book cover from your photo album.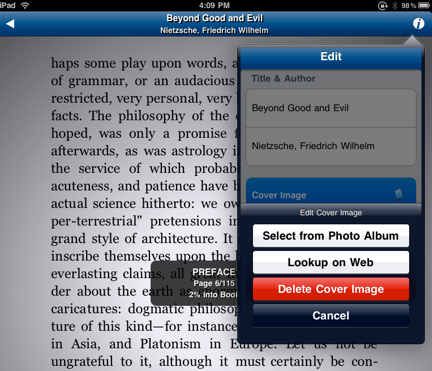 One really nice feature in Stanza is that you can swipe your finger down the page to darken the screen for night reading, and swipe it up for full brightness; no waisting time with clicking buttons to access this feature.
Like all e-readers, Stanza has a bookmarker tool but what makes it different is that you can customize the title of the bookmark which is helpful for noting why you bookmarked a certain page.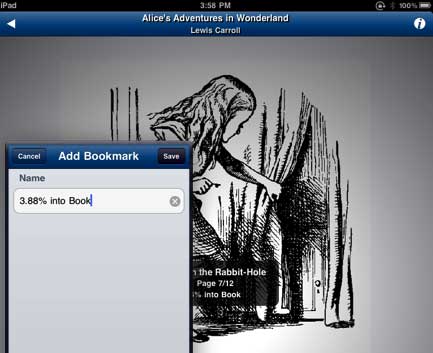 Stanza also includes an in-app dictionary and a search tool.
Finally, you can also share what you're reading, on your Twitter and Facebook account—a feature missing in all other mobile e-readers.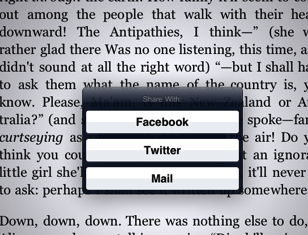 The library interface for Stanza is not that attractive, but for its generous amount of free ebook offerings it can hardly be matched.
Borders eBook
Borders looks to be the last major book seller to get into the e-book business. It recently released Borders eBook app for the iPad. It sports an elegant Library Home Page, which comes with seven different shelf styles, from the wood style to the more delecate Sculpted and Moulded style.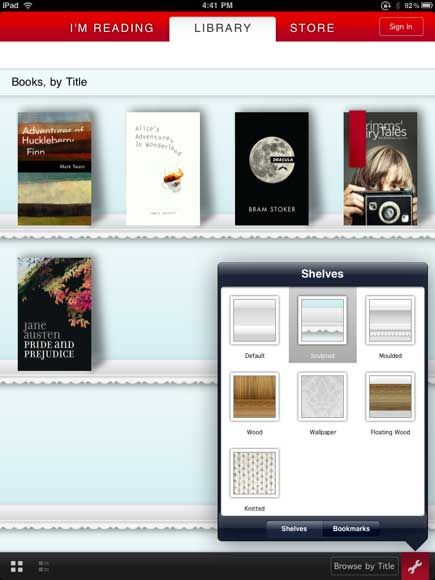 Unlike with Amazon Kindle app, you don't have to leave the Borders app to browse its ebook store, which is a big plus.
Compared to the basic features offered in other e-readers, the Borders app seems to be taking a minimalist approach. You can bookmark pages, but as far as I can tell there's no other annotation tools for highlighting or note-taking.
There's also no dictionary or search tool. Like other e-readers, your books are downloaded and kept on your Borders account, but there's no sync between mobile devices to the last page read, which is a popular feature in the Amazon Kindle app.
Also, the e-book offerings in the Borders e-book are not that large, as compared to Barnes and Noble, and especially Amazon.com. The Borders list seems limited to NY Times Bestsellers books, and books from its top 50 sellers list.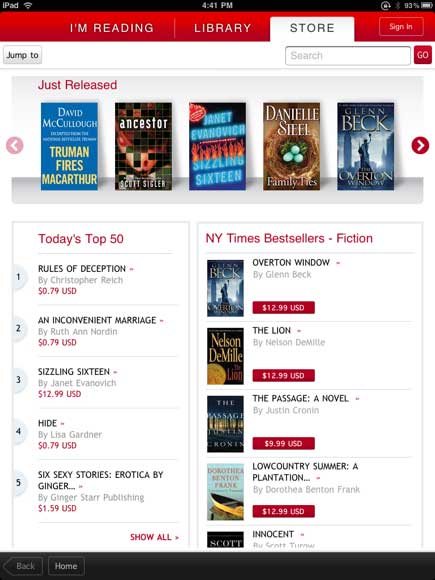 The Borders app is definitely in its version 1.0 stage. For now it will appeal to current Border customers and perhaps readers who don't need annotation tools for reading.
It's great to see the variety of free e-reader apps in the App Store, but I wish we users could hand pick the features we want from each app to make the perfect e-reader. But alas, that's not to be. We'll just have to choose one or two favorites and be content.
So tell us which e-reader are you using on your iPad or other mobile device. What do you like and dislike about it?