Photo Slideshow Applications for the iPhone
Whether for business or personal purposes, your iPhone or iPod touch is a useful tool for showing off photos, but the default slideshow feature for these devices while good is only a start.

So last weekend, I tried to find third-party slideshow applications that I could use with my potential wedding photography clients. Well, here are the applications that I'm most impressed with so far.

Note: All the application links link to the iTunes Store.

Apple's Default Slideshow Feature
So what's so wrong with Apple's iPhone and iPod touch default slideshow feature? Well, it works great. You have the option (Settings>Photos>Slideshow) to set the play time for each slide/photo and what type of transitions you would like to use. You can also select to have the slideshow repeat and shuffle the type of transitions used. But the main thing it's missing is background music. Now, of course, you could play a song from from your iTunes library and then open up a slideshow and play it. But there are better alternatives for under $3.00.

http://itunes.apple.com/WebObjects/MZStore.woa/wa/viewSoftware?id=301157209&mt=8)">Photo Show
My application of choice so far is Photo Show, which has the same options and features as Apple's default slideshow feature. But it alos contains a dozen or so more transitions than what Apple offers. In addition, it comes with a dozen musical loops that you can use for background music. You can also add mp3 music files via a web browser to Photo Show, as well export slideshows created with the application.

It's also very easy to select several photos from one or more albums in your photo library on your iPhone/iPod touch to create the slideshow.

Photo Show should be the type of feature that comes installed with iPhone and iPod touch photo library.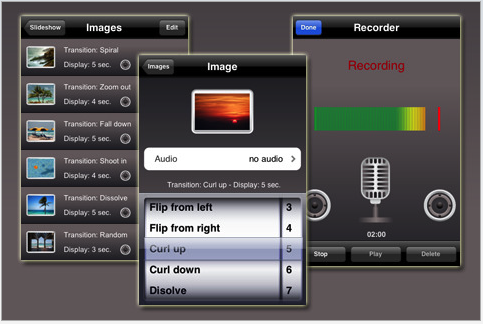 Photo Sharing Sites
Several photo sharing sites like Flickr.com, Shutterfly.com, Moblyng.com, and Shutterbug have slideshow applications for the iPhone and iPod touch. The applications for each of these sites vary in features, but to my knowledge, none of them includes background music.

However, these applications are useful for accessing sets of photos from your respective photo sharing site, going beyond the photos stored photos on your phone or touch. Currently I use a web-based application called iPhlickr , which downloads photos from my Flickr account. It's the only Flickr related application that includes a self-running slideshow feature. Other similar applications require you to slide individual photos across the screen one at a time. Unfortunately, the developer for iPhlickr hasn't done any updates of the application. Another Flickr option is Darkslide.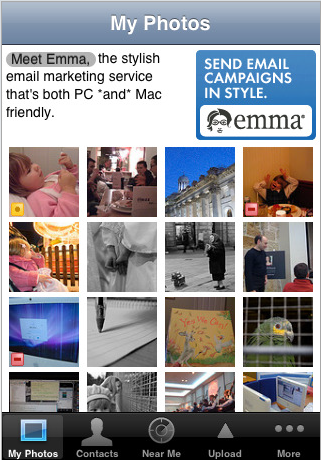 Similarly, if you have a MobileMe account, you can of course view your MobileMe galleries in a slideshow format. Hopefully, in the near future, Apple will finally get around to enabling musical slideshows for its MobileMe members.

The only downside to the web-based slideshows is that you need an Internet connection. If you have a set of family photos or business portfolio that you want to show, it will be better to have those shows installed on your mobile device.

Animoto
The most ideal and fun slideshow application is developed by Animoto.com It recently released its iPhone/iPod touch application which enables to use photos from your device and select a soundtrack from their library for background music. The application creates a zesty (sorta MTV-styled) customized 30-second music video of your selected photos. You actually have to view an example, to appreciate the uniqueness their slideshows/videos.

The application is free, but unfortunately the video/slideshows in the current version are just too short. The one I created timed out in less than 30 seconds and didn't use all the sixteen photos that I selected. The developers are working on a version 2.0 which they say will enable you to "to sync your videos with Animoto.com account, download vids for offline viewing, and make longer ones with an All-Access Pass." I think a small fee will be worth it because the videos go beyond the dry traditional slideshows that we're accustomed to seeing or developing.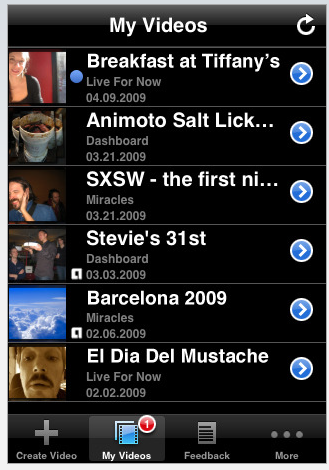 If you're using a different or better slideshow application for the iPhone or iPod touch, please share it below.