Paperless Reading and Annotating on the iPad
Back in October, I wrote an article about Paperless Reading on Your Mac, and in it I talked about the popular iPhone application, Instapaper; the web-based annotation service, Diigo.com; and the Preview application in OS X. All of these programs have helped me cut down on my consumption of print materials by at least 85%.

Because I have this penchant for annotating what I read—it helps me remember the content better—I've longed for a device, an e-reader, that would allow me to read and annotate documents beyond my desktop computer. Well, now my wish has been fulfilled, with Apple's iPad and Aji's Aji Annotate for the iPad.

So far I have found the iPad to be an almost perfect device for reading online documents, PDFs and e-books. The size of the screen, its backlighting, and the ability to lock the screen in vertical position all make this the ideal e-reader, though it's a little odd they didn't include notetaking capabilities in the program.

Aji's Aji Annotate is the first application for a mobile device that I know of that offers extensive annotation features (it includes highlighting, underlining, sticky-notes, pencil drawing, bookmarking, and searching) for a PDF reader. The developers of this application have loaded the application with powerful tools useful for students, writers, researchers, and anyone who needs to annotate text.

Immediately after launching the application, you are greeted with pop-up instructions, "show tips," for getting started with the program, which includes its own PDF manual. When you click tools and other features in the app, you get similar show tips to help you along the way. You can of course turn off the help notes by simply clicking OK or you can select Remind to see them again.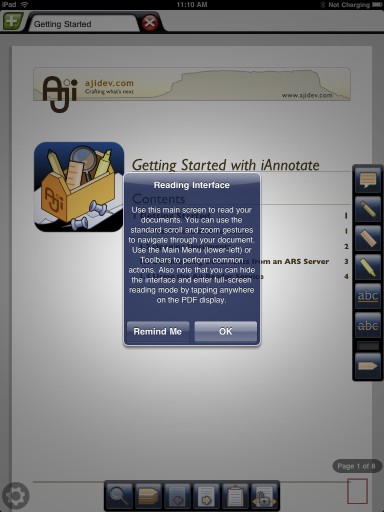 The tools are located in two default tool bars—one at the bottom of the screen and the other on the right side. What I especially like about the annotation toolbars is that they don't really get in the way of reading text. You can tap on the middle of the document and the toolbars slide away; tap again and they come back.

To use the tools, you simply tap on one of them, and use your finger to make the annotation, and click the read X button to close the tool. Clicking on an annotation allows you to change it's color, delete it, and make it a "sticky," which means the selected annotation will never be hidden.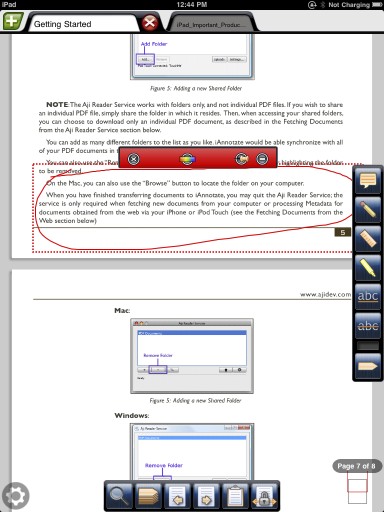 If you're zoomed-in on text and you want to annotate, the page locks so that you can slide your finger and underline, highlight text, etc. without moving the document around.

The tools are pretty intuitive, and not a least bit awkward to use. It's a little tedious to click the red X button to close out an annotation, but perhaps that will keep some users from making marks every other sentence or paragraph, which defeats the purpose of annotating text.

You can also have more than one PDF open at a time, but it's recommended that you leave no more than one or two open unless you need them.

Another nice feature is the ability to customize, move and add tool bars. The developers were keenly aware of how users of the e-reader would have different needs and preferences, and they did a great job in accommodating those preferences.

Getting Documents In and Out of the Reader
Importing PDFs into the reader is not as easy as I would like. You have to download Aji's Reader Service application, which links to the Aji Reader on the iPad. This worked okay for me, but sadly it took several tries before I was able to get a larger (12.5MB) document to import into the application. An 825KB document uploaded just fine, but I had to restart my iPad and the Aji reader several times before the larger document finally uploaded. I'm sure this problem will be fixed in upcoming updates. And the problem could also have something to do with Wi-Fi issues that many owners of the iPad are experiencing.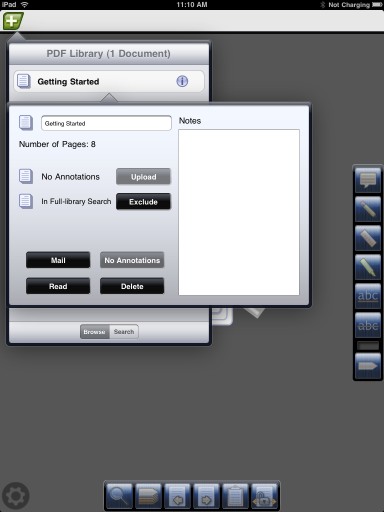 For exporting documents, you can either send them, along with your annotations, via the Reader Service application, and in version 1.1 by way of email. The next version will also enable you to send just annotation summaries back to your computer instead of the entire document.

An Aji developer did let me know that "there are a lot of 'missing features' in this initial version of our application, since we had no way to know how they worked or to check them out," before the iPad was actually launched."

He also added that "We're planning a fairly major 1.1 update which will address many of these issues (including full Mail/iTunes integration, and much improved drawing resolution.)

My experience with Aji Annotate already shows me that its developers are serious about producing and maintaining a powerful e-reader for those who need or like to annotate what they read. For this reason, the current introductory price ($6.99) is very reasonable for such a useful application. I suspect that future upgrades will be free, so I would recommend snagging a copy now.

Aji Annotate is based on a similar version of the application for iPhone and iPod touch. But for me, the larger screen of the iPad makes it an infintely superior way to read and annotate text on a mobile device.