Instapaper Gets 2.0 Update
Back in April, I listed Instapaper as one my top 10 iPhone/iPod touch apps. This easy to use program has literally kept me from printing out several articles that I come across per week on the internet which I typically don't like reading on my desktop computer monitor.

I'm now pleased to report that the developer has just released the much anticipated 2.0 version of Instapaper (iTunes link.) It includes some much desired features largely in the area of managing documents and subscribing to RSS feeds.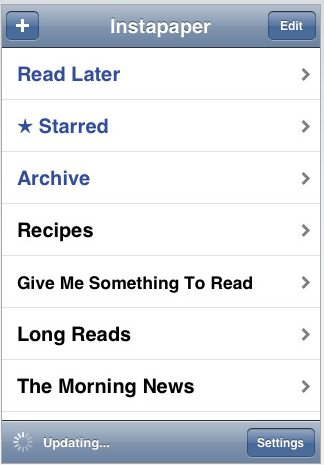 So in a nutshell, here's what's new:

• Folders for article organization.
• Star articles, and subscribe to other users' Starred folders for article recommendations. (Directory coming soon.)
• Feed folders: Many RSS-capable, Instapaper-friendly websites can be subscribed to as folders, automatically downloading new articles. (Note: Instapaper is designed for light feed use in addition to its other functions. For heavy feed use, please use a dedicated feed reader. The number of simultaneous feeds supported may be limited in the future.)
• Automatic, continuous updating in the background with an improved offline engine.
• New toolbar layout with easier access to features.
• "Read Later" button when you tap links in articles.
• Download graphical versions of individual articles on demand.
• Many small improvements and fixes.

If you've never used Instatpaper, what makes it stand out above other similar readers is its tilt scrolling feature. When activated, the downloaded article you're reading can be scrolled up or down simply by tilting your phone back or forth. This means not having to slide you finger across the iPhone screen to move to the next page of the article. This feature will actually help you to read the article faster. However, I must add that with this new update, the tilt-scrolling sometimes doesn't seem as smooth as the previous version.

To get articles on your remote device, you simply add them to your Instatpaper account, primarily using a bookmarklet found on your account page. There's also a bookmarklet for saving articles you come across on the iPhone's Safari web browser. When you start up Instatpaper on your iPhone or iPod touch you select the sync button, and your saved articles are downloaded to your device. Thus, you don't have to be connected to the Internet in order to read downloaded articles. The saved articles download as text-only, but you also have the option to download the full version of an article as it appears from its source website.

If you're regular reader of web-based articles, believe me your reading list will grow long fairly easy when using Instatpaper. Thus, the ability to move articles into custom folders helps with data management. However, you can't save articles to a folder on the client side of the process. It can only be done on the remote program. This is a little annoying step in the process, but if you're looking to keep articles on your remote device, the folders are a tremendous help. The updates of course that you make on your remote device, including new folders and their content, are synched back to your Instatpaper account.

There is also a feature for subscribing to RSS-capable, Instapaper-friendly websites, which creates a folder for that feed and downloads the articles to that folder. The program comes with with a list of Instatpaper-friendly websites, such Huffington Post, the New Yorker, Slate, and The Atlantic. You can also add your own feeds if they are Instatpaper-friendly. It was great for example to see that AppleMatters.com is Instatpaper-friendly, but I was disappointed to see that Macworld.com's feed would not download. The developer doesn't spell out what makes a feed Instatpaper-friendly.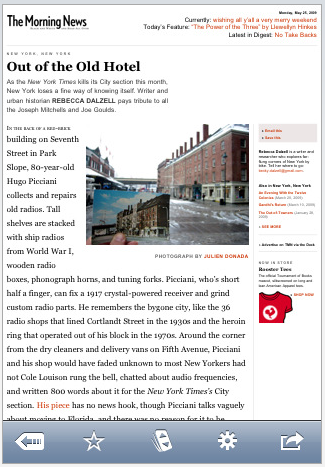 If there are articles that you want to favorite, you can star them and they automatically get added to your starred folder. This is just another management feature that is useful as your list of documents grows longer. Your Instatpaper account page is not like using http://www.delicious.com. You can't tag articles and put them into sub folders. So the more management features that the developer provides, the better.

Overall I'm happy with the 2.0 update, which is now on sale for $4.99 (it doesn't say how long that sale price will be in effect. There's also a free, less featured version of the program.) I think there's a lot more to come for this program. For example, you can email links to selected articles from Instatpaper, but I could also forsee in future releases the option to send send articles to your dilcious.com or Twitter account. At some point, also, the developer might be able to figure how PDF's can be read on the program.

I appreciate the developer's hard work on improving Instatpaper because it's another iPhone tool that makes my digital life just a little easier.