10 Ways to Stay within an iTunes Store Budget
Purchasing songs on the iTunes Store is a good thing for Apple and people in the music industry. But 99 cents for a song or an iPhone/iPod touch application doesn't seem like a big dint in your budget until you receive your credit card or bank statement and realize you've spent, well, more than .99 cents. You've racked up say twenty, forty, or even fifty dollars worth of store purchases. And now that many songs in the store are selling for a $1.29, you may have to be more particular about your store purchases. If you're like some addicted shopaholics that need a way to resist your next iTunes store purchase, try some of these tips.

1. Create a monthly budget: Establish a conservative amount that you can spend for iTunes Store songs, iPhone and iPod touch apps, and movie rentals every month. Budget enough so that you won't feel the need to go into total rethrawal and give up in the first month, but also make your budget tight enough to warrant some fiscal restraint, keeping you from needing a family bailout in order to pay other bills. Hold off buying songs until you've paid your required bills. If a monthly budget is too long, budget from week to week so that you always feel as if you're feeding your addiction but you're still staying within budget.

2. 1-Click vs. Sharping Cart: Instead of directly purchasing songs from the iTunes Store with the 1-Click option, set up your iTunes preferences to have selected songs and albums go into your personal sharping cart. This way you're required to open your shopping cart and selectively consider your purchases before clicking the buy now button.

3. Un-heard Songs List: If you think you deserve a few new songs, go back into your iTunes library and discover all the songs you haven't listened to yet or in a long time. Make a smart album for songs that you haven't played more than say three times.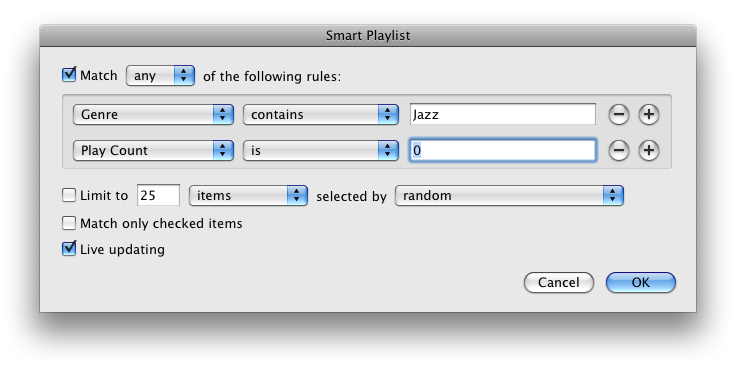 4.Download Free Songs: We should all support artists by purchasing their songs. But there are sites that share legitimate downloading of music for free. Free songs may not be on the top of any music charts, but downloading them may help keep you within your song purchasing budget. Plus, you may discover some new talent along the way. By the way, if you don't know already, Apple releases a free song on the iTunes Store every Tuesday. If you partake in this weekly download for a year, that's 48 songs you've added to your library for free. And it means that you also open yourself up to listening to songs that you may not normally purchase.

5. Sell Your Old CDs: Got old music CDs stacked up somewhere? Sell or trade them as a way to acquire new songs. I was surprised recently to walk into a local music store which was still in business selling used albums and CDs.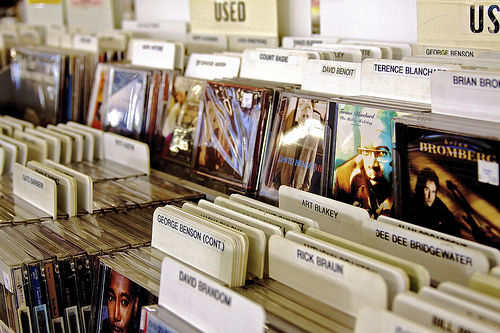 6. SimplifyMedia: Download a legal music sharing application called SimplifyMedia, and then encourage a couple of other friends to download it. With this application, you can share your music right within iTunes. You can invite up to 30 friends to share you library. If you like jazz, rap, and World music, you're welcome to listen to my library. My screen name is Bakari. I keep the SimplifyMedia open on a regular basis. You can also use the iPhone and iPod touch version of SimplifyMedia to listen to your library or the library of other connected users.

7. Local Library Rentals: Visit your local library and borrow from its CD collection. When I first started loading up my iTunes library, I must have visited like five local libraries, borrowing and copying a lot of the old music that I wanted to add to my collection.

8. Monthly Music Subscription: The iTunes Store is not the only shop in town. You might consider subscribing to a site like http://www.emusic.com, whereby for the same price of one album in the iTunes Store, you can download something like 50 DMR-free songs per month for $9.00. These type of music sites don't typically carry the latest music releases on the market, but you'll find some good old and independent artists that might keep you satisfied.

9. Free App Versions: Of course always look for the free versions of iPhone or iPod touch application before you fork out the money for a full version. Use the free version for a while before you purchase the paid version of the same application. As great as iPhone applications are, many of us only use about one percent of the total apps we download to our iPhone or iPod touch.

10. Create Your Own Mixes and Songs: It's clear that Apple loves music and it wants you to enjoy it as well. So open up your most likely never used copy of GarageBand and start experimenting with creating your own music. Jeff Tolbert's Take Control of Making Music with GrageBand '09 is an excellent introduction for anyone with little or no experience with song writing or the GarageBand application. Versions of his PDF book are also available for prior versions of GargeBand. Equally fun is a great music playing application called Djay, which provides you a way to mix songs from your iTunes Music library. The application is really inituitive to use for beginners, and it sells at a great price of just $50.