How to Replace Your Wallet with Your iPhone
A few years ago, I read an article about replacing your wallet with the iPhone, and after recently and finally upgrading to the iPhone 4 I decided to see if there's a way I could stash my wallet and carry around only my iPhone. This article will explain the setup I'm using and how the transition is coming along. Of course not all iPhone users can replace their wallet using this strategy, but if your buying habits have changed like mine in the recent years, you may be able to pull it off.

Why I Did It

I would say that I use my iPhone at least ten times more than I use my wallet. More than a few occasions I've actually gotten in my car and forgetten my wallet sitting my office desk. When I took a critical look at the contents of my wallet I realized I only used and needed three cards on a regular basis: my Paypal debit card, my bank card, and my driver's license. My credit cards get very little use around town because more and more I try to pay for things online now, including bills. I could just as well leave those cards at home and grab them on an as needed basis. So it makes really no sense to carry my wallet around. Here's what I did to replace it:

iPhone 4 Apps

Key Ring (free) : I scanned all my of six discount and buyer membership cards to an app called Key Ring Reward Cards. The barcode scanner on the app takes accurate scans and produces card numbers without a problem.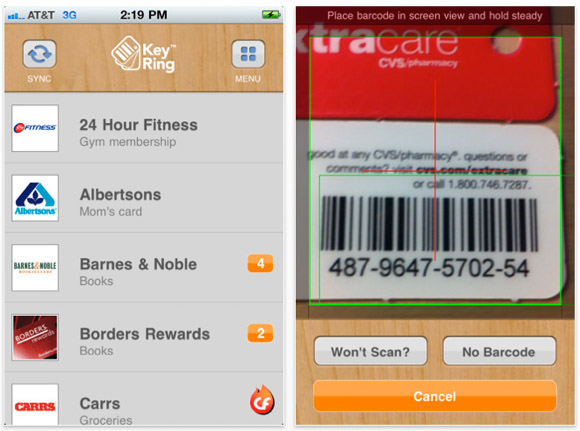 So far I've used my scanned cards at Staples and Best Buy. Both stores couldn't scan their cards on my phone, but neither of the clerks seemed to mind manually inputting the card numbers. I don't use these cards often, but when I need them I simply make sure I have the app open and the needed card ready for the cashier before I reach the counter. You can also backup your cards on an online account.

JotNot Scanner Pro

For the few important scraps of paper in my wallet and merchandise receipts I need to keep track off, I'm using JotNot Scanner Pro (.99) . This scanner also does a superior job scanning documents, small and large.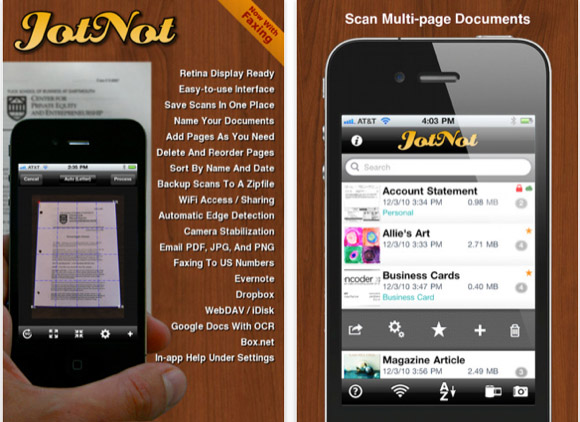 In fact, it scans better than some paper scanners I've used the past. The scans are very readable and can be printed, emailed, faxed in PDF format, as well saved to Evernote, WebDAV/iDisk and Google Docs. I don't scan a lot of documents on a regular basis, but JotNot comes in handy when I do.

Stash Pro and Photo Library

The other items in my wallet such as my social credit, business cards were and are photographed using the iPhone camera, and imported in app called Stash Pro (Free and $3.99)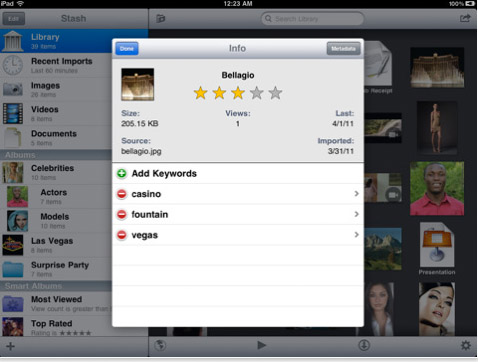 This app allows you to create folders, including smart folders and rate images in a similar fashion to iPhoto. You can also password protect the application. Thus I photographed a copy of my driver's license to show to store clerks, which is something I don't have to do often.
Those few baby photos of my children that used to carry around in my wallet easily exist now in the Photo Library of my iPhone. That part is like going from a film-based camera to a digital one. No worn photographs to deal with. Just clean digital photos.

iPhone Credit Card Case

The final solution was to choose a iPhone case that could hold my driver's license and two debit cards. This is the most risky of all in the transition. But as I look back on the all years I've carried may iPhone around with me I've never replaced it outside my own. When I'm not using it, it's always in my pocket or on the car seat of my car. So yes, it a little of risky to have these three cards fitted into the case, but if I ever notice that I'm being forgetful about where I last leave my phone, I can always go back to the wallet method. Besides anyone wanting to use these cards still must know my pin numbers.

I thoroughly researched iPhone card cases, and chose the iPhone Credit Card Case sold by JAVOedge, which I purchased on Amazon.com. I didn't want a case that would make my iPhone too bulky. Those leather cases with flaps or several pockets would feel like I'm still carrying around a wallet.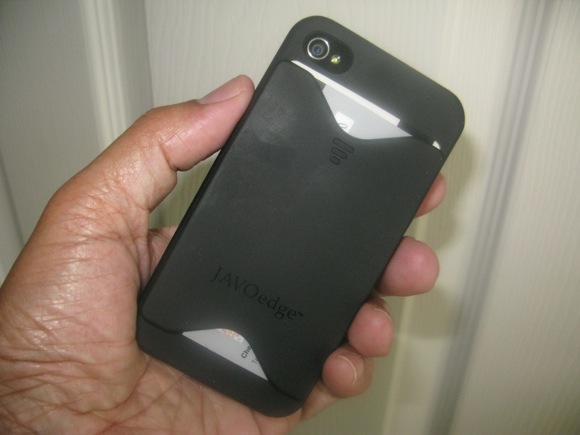 The JAVOedge snuggly holds my three cards. I put the debit card I use the most on top of my bank card and driver's license. There's no room for credit cards, but that's okay because I'm not using them on a daily basis anyway.

For almost two weeks now, I've been using my iPhone as a wallet. A few times I grabbed for my wallet, but I haven't run into any problems by replacing it with my iPhone. I plan to get a money clip for my dollar bills, of which I carry very few.
Well that's how I made the change. As smartphones become increasingly used, perhaps more and more businesses and banks will replace plastic cards with applications that we can use anywhere we go.