Getting Your Tivo and Macintosh to Talk
Tivo, as a company, is very similar to Apple. Both companies owe their success to spectacular user interfaces and attention to detail. Apparently the Tivo CEO is a Mac fan, which is strange considering the amount of time it took for them to support Macs for any of the functions that Windows users had been enjoying for years, such as sharing multimedia from the PC and copying videos to the PC. Also, for a while there were many rumors that Apple would acquire Tivo, but in light of the introduction of the AppleTV, that no longer is likely.
I have had my Tivo for a week now, and I enjoy it quite a bit. Besides being a DVR that records what I ask it to, it also goes out and keeps downloading things that I didn't ask it for based on my taste and preferences, which it learns over time. Also, if it is connected to the Internet (which is the best way to have it), it will provide you with weather, traffic, podcasts, movie showtimes and tickets, and all kinds of other nifty features on your television. Also, the ability to send it recording requests over the Internet is fantastic.
My experiences with getting the Tivo to talk with my Mac were quite straightforward, but will apply to you in the following situations:
You have a stand-alone Tivo Series 2.
Your Tivo is on the same home network (wired or wireless) as the rest of your home computers.
You have a Mac with OS 10.4 or higher.
Tivo Desktop—share your library with your Tivo
The Tivo Desktop software comes from Tivo themselves and gives you the ability to share your photographs (from your iPhoto library) and your music (from your iTunes library) with your Tivo. This software adds the Tivo Desktop to your System Preferences. Once you "Start" sharing, you can access your media from your Tivo effortlessly. Your Tivo will also be able to discover your Mac automatically using the Bonjour protocol (part of Mac OS X).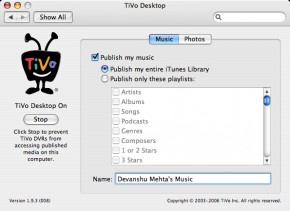 VLC
Before you proceed any further, you may want to go and install VLC. This is a media player that can handle most of the video and audio formats that the world can throw at you, for those all-too-many occasions when QuickTime chokes on a file. Even if you have QuickTime Pro, the videos that you can get off your Tivo may have trouble in QuickTime.
Tivo uses MPEG-2 as its video file format but encrypts it with its own algorithm. The following programs help you get the video in a playable format for your computers, DVD players, or other portable devices.
TivoToGo—the official way to get video from your Tivo
Unfortunately, this is bought with Roxio Toast, a $100 software before rebates. This, however, does allow you to download the videos to your Mac, convert them to other formats (iPod, PSP), and burn them to DVDs for consumption on your regular DVD players. This is an expensive option, but may be worth it to avoid the hassle and legal implications of less official and less streamlined options. Personally, at that price, I would rather spring for the next upgrade of OS X. This is also a poor decision on the part of Tivo, since the Windows option is free.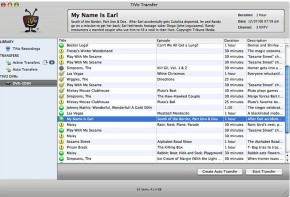 TivoDecode Manager—to get video from your Tivo for free
The TivoDecode Manager is a free and relatively simple-to-use option to download your videos from the Tivo to any Mac on the same network. The software has a few nifty features, such as the ability to queue downloads, convert to MPEG-4 for iPod transfers, and Bonjour. Bonjour is Apple's name for the protocol that allows machines on the same network to discover each other and advertise services. With the Tivo, this allows the Mac to find all the Tivos in your home network (and allows your Tivo to discover all the Macs for the Tivo Desktop functionality).
The TivoDecode Manager will automatically detect your Tivo and list all the videos on it. Queue them up and it will download (and decode) them all as fast as your network permits. Of course, the videos are pretty large in size so make sure you have the disk space!
The issue of burning these videos to DVD becomes a little more tricky and is one that I have not had the opportunity to explore yet. Many resources suggest ffmpegx in combination with iMovie and iDVD in order to convert the video to the appropriate formats and burn them to disk. Check out some of the suggestions at ZatsNotFunny.com or Hit or Miss, and I will write an article in the future when I have tried them, and other cool Mac-Tivo hacks.