Dual Web Browsing for the iPad!
If you want to watch or listen to a YouTube video on your iPad while also browsing another web page, it simply can't be done in Safari. But there are two new iPad apps that make this type of simultaneous browsing possible.



Both of the apps work similarly, so much so that they nearly share the same name. One is free—BlueMedialab's Duo Browser, and the other is currently .99 cents—McLean Mobile Solutions's Browser Duo. Is that a coincidence, or what? Not sure who copied who, but that's not for me to speculate. All I can say is if you really want dual browsing, I recommend the McLean .99 cents Browser Duo app. Here's why.

Brower Duo takes better advantage of the iPad screen real estate by incorporating a single URL address bar for both browsers. How is that possible, you ask? Well, the address bar simply switches when you tap on either one of the open web pages.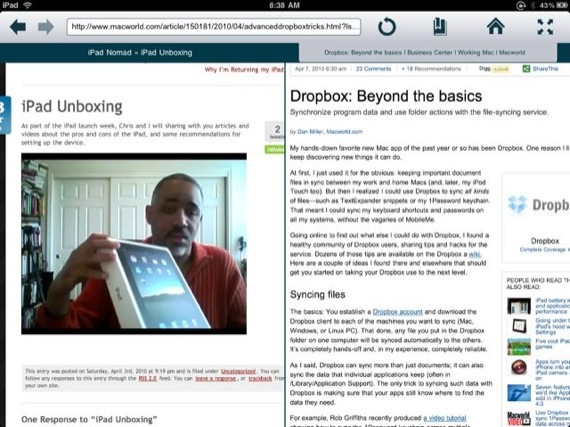 Whereas in Duo Browser, the free app, each browser page has its own address bar, taking up more space.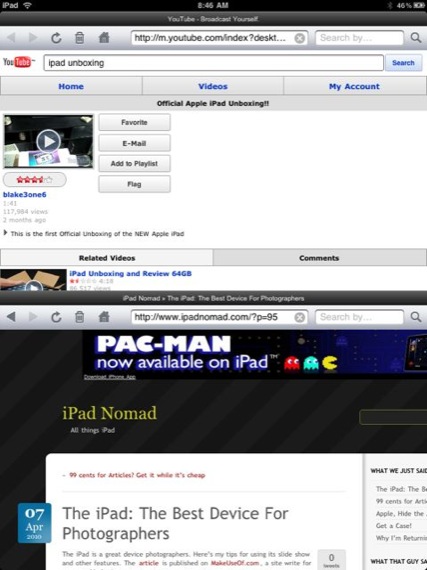 In the Brower Duo app, the (.99 cents one), you tap either browser to add or change the website address. When you tap on one of your saved bookmarks, it opens in the foremost browser window. I'm probably making it sound a little more complicated than it is, but trust me, it's easy to navigate.

You can view web pages in both horizontal and vertical view on the iPad, plus you can tap to expand one browser page to full screen, which tucks away the menu bar—making the web browser even larger in full screen mode that what you get in Safari.

I was able to watch YouTube videos in one browser very easily while reading and browsing other sites. Zooming in on the content of each page made dual browsing almost feel like I was using a dual monitor set up. This type of browsing wouldn't be possible on the iPhone or iPod touch's smaller screen.

By the way, in the free Duo Browser app, YouTube videos wouldn't play, even after I tried several times. So I guess in this case, you do indeed get what you pay for. Download the .99 cents app.

Incidentally, as I'm writing this, Apple is holding it's iPhone OS 4.0 event. They are announcing multitasking for the 4.0 upgrade, but even when that feature comes to the iPad, it might not enable users to do what Browser Duo does. They're talking of running apps in the background, but I'm not hearing anything about running web pages side by side.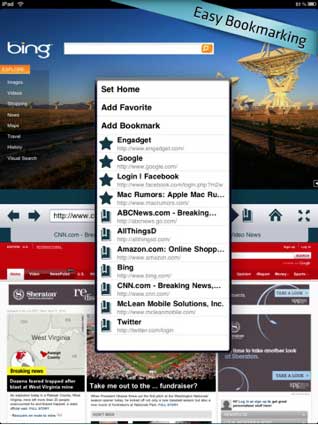 Browser Duo does have a few missing features. It says that it has Private Browsing, but what that means is that it doesn't save your browsing history, even if you want it to. You can save bookmarks, but there's no folder structure as in Safari. You bookmarks are just listed in one panel. To delete bookmarks, you tap on the bookmark button, press down with one finger and move it slightly to the right, which will cause the Delete button to appear.

Despite these few missing features, Browser Duo is a great iPad app and one that you'll want to have as part of your collection.