Clips: the iTunes of Clipboard Managers?
I took advantage of the recent McHeist nanoBundle 2, dropping twenty bucks for possibly $260.00 worth of apps. A few apps in the bundle are ones I'll never use, but a few others such as Ripit, Clips, MacJournal, and RapidWeaver, made the package a huge savings.

Of all the downloads, I was most interested by Clips, since I copy text to the clipboard, for various purposes, at least several times a day. Clips could be called the iTunes of clippings, but it's not nearly as polished as Apple's leading music player.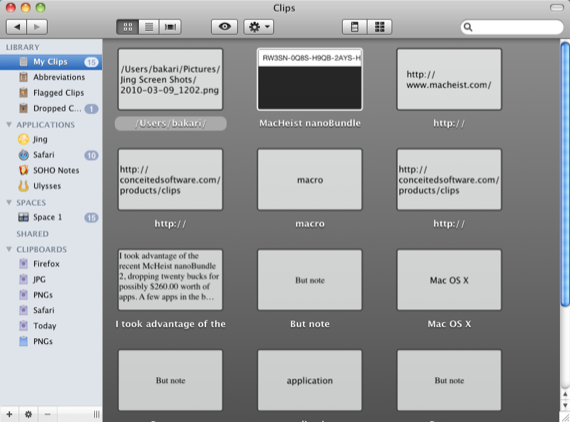 Taking text and graphic clippings beyond the clipboard, Clips stores and manages your clips in unique ways that similar clipping programs don't. As you no doubt know, your Mac's clipboard will only save the last text or graphic clipping that you made. When you copy a different piece of text or another graphic, the previous one gets deleted or replaced.

With most clipboard managers, you can retrieve up to 50 or more previous clippings. Some managers, like the now defunct, iClips, allow you to save clips to designated clipboards where they will remain until you delete them.

Clips contains these features and more. It includes multiple clipboards, but it also automatically generates and arranges copied items into application-specific and Spaces-specific clipboards. So all of your recent clippings you make in Safari or Mail can be retrieved on those clipboards.

In addition to the regular clipboards/folders that you can create, Clips is unique among clipboard managers for incorporating smart folder technology, or in this case smart clipboards. I thought this feature would be awesome, but the parameters for smart clippings are inadequate for making useful smart clipboards. For example, there's a date rule for smart clipboards, but the rules are specific, instead of days specific. You can't make a rule to save only the last clips created in the last day or last two days. It has to be a specific date. You also can't edit smart clipboards once they're created. You have to delete the folder and start over. The entire feature needs to be worked and improved.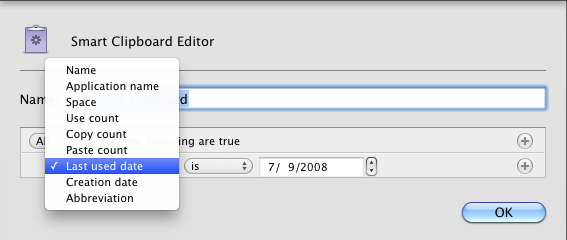 Despite the shortcomings of the smart clipboards, there's a useful feature for heavy clipboard users called Shortcuts. It enables you to paste up to the five more recent copied items using shortcut keystrokes. So you can copy up to five items in one application and then use your shortcuts to paste those items into another application. That's a nice little time saver. But note, the shortcuts paste in reverse order of the copied clips.

You can also drag and drop clippings into one of three of Clips' displays—the organizer, the panel, or the board. The organizer looks like the Finder with a sidebar of folders and applications. You can also access clipboards from the menubar, as well as from a panel that slides in and out of a designated side of your desktop. Each of these browsers can be turned off, for you might find the elaborate clippings panel distracting to your workflow.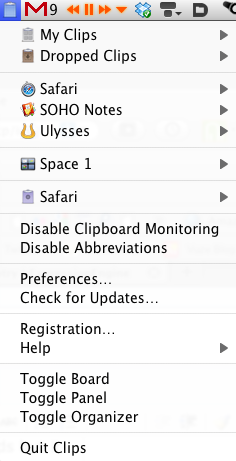 Lastly, the biggest problem with this application is that it retains duplicate copies of the same clippings. I currently use Butler for my main clipboard and it's smart enough to not retain a duplicated piece of text.

Overall, Clips is a good idea for writers, designers, maybe developers, and others who need to keep track of snippets of text and graphics, but for now it's not polished. I look forward to enhancements and fixes in future updates.