Androids vs. iPhones the Battle Goes On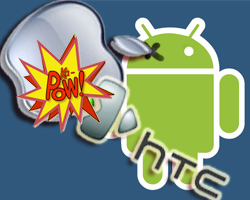 The iPhone 4 is taking a beating, and where will it end? Last week, Apple admitted that its iPhones had been overstating network signal strength since 2007, and that the original wraparound antenna design responsible for this has been wreaking havoc with reception in its latest iPhone 4. Under fire from critics and customers, Apple apologized. Apple almost never appologizes!

Back in March when Apple filed a patent-infringement lawsuit against HTC, one of the major manufacturers of smartphones that run Google Android, it was hard to predict that Apple would be on the defensive just three months later, as HTC's sales soared 33% over its previous quarter.

With 1.7 million in sales by the end of June, Apple claims that sales of iPhone 4 have not been influenced by the media frenzy over antenna issues, and that this has been its most successful phone launch ever. However, amid antenna quality issues that forced Apple to apologize to the public, not once but an unheard of 3 times in the past month, and other announcements like 1-NTP is suing Apple, Google, HTC, Microsoft, Motorola and LG for patent infringement, it's not easy to be a blythe Apple fan. And it's not easy to dismiss the idea that if Apple had fixed the reception problems earlier on, sales of iPhone 4 would have been higher still.

Sales of HTC handsets are on a trajectory to grow from 12 million in 2009 to approximately 20 million in 2010. And that's just one company that produces phones that run Google Android. 1.7 million vs. 20 million is not a good ratio for Apple. However, it's a great one for Android.

If Apple wins the lawsuit against HTC, it could change things dramatically for HTC and the public's consumption of its phones. However, while this would be a major win for Apple, it would be lousy for consumer choice.

Apple, Dude! Give us the white iPhone 4, fix the antenna problems, and the stocking fees, and get it together. The war is on!