5 Free Giveaways: Back Up, Sync, and Share with SpiderOak
One of the challenges for anyone using more than one computer and/or mobile device is keeping files and other digital content backed up and synced between devices. Any experienced Mac or PC user will tell you that failing to back up important documents, photos, music, and other important files is probably the most devastating lesson you will learn when a hard drive crashes or when you accidentally delete important content.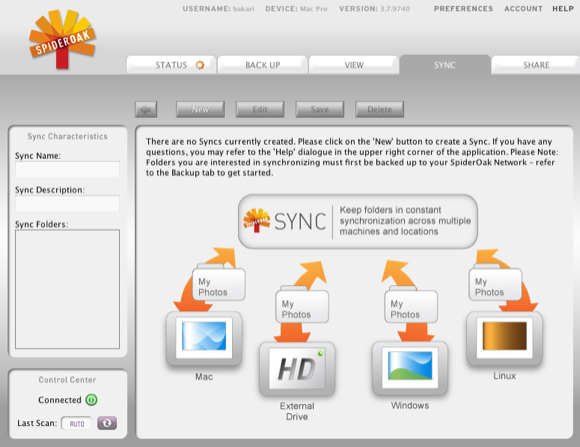 The key to a good backup, sync, and sharing system is that it performs regularly and automatically, alleviating the need to do manual backups. There are several solutions for data management services, but the online and software solution, SpiderOak, is one of the few that offers a comprehensive management system and service that works across platforms, including Mac OS X, Windows, Linux systems.

SpiderOak provides a free complimentary 2 gigabytes of online archiving and syncing space, and a 100+ gigabytes of space for $10 per month, or a $100 per year. With this service, you can sync, back up and share data files from any computer to your account—anywhere and everywhere.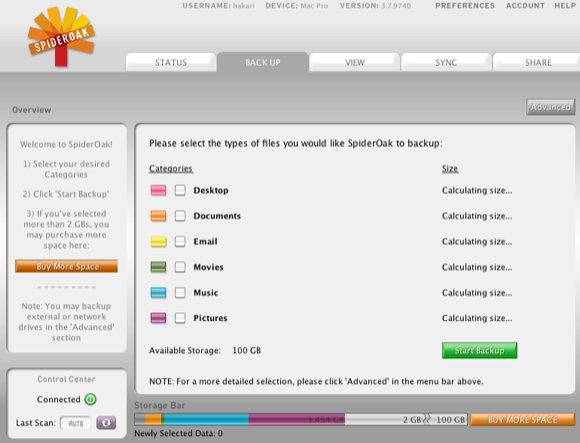 This secure service is great if you need to archive data or share files between your desktop and laptop Macs. It also provides a password-protected folder and file sharing with anyone you provide access.

You can set backup systems so that whenever changes and/or additions are made to designated files, those changes are automatically applied to the synced files on your account or other devices. You can view all your managed data both in the SpiderOak application and via your online account.

SpiderOak is basically an all-in-one data management system. Whereas Apple's MobileMe offer many of the same features, it is not as well organized and easy to use as SpiderOak. All your archiving, syncing and sharing tools are in one place. If you're looking to sync files between devices or across platforms, you will need to download and run the SpiderOak device on all the devices.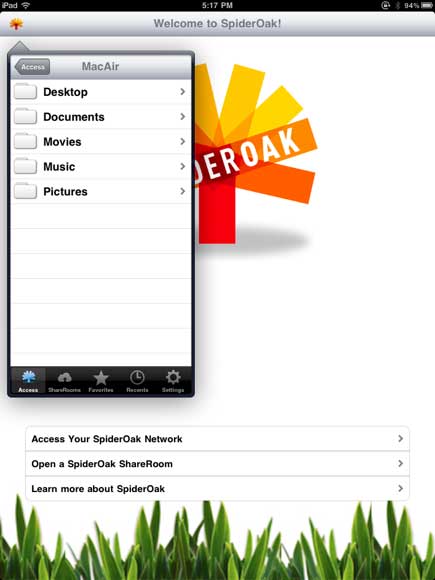 For us iOS users, SpiderOak recently released a free client mobile app, optimized for the iPhone and iPad, in which appropriate data synced to your account can be downloaded, viewed, printed, and exported to supporting apps like Evernote or your Photo Library.

Even if you don't use SpiderOak's premium services, you can set up the complimentary space and create what's called ShareRooms for family, friends, and clients who use an iOS device. You simply provide a ShareID and a valid RoomKey. You can also email files through a secure link.

Speaking of online security and encryption, it seems tight with SpiderOak. This is what they say: "With SpiderOak, you create your password on your own computer -- not on a web form received by SpiderOak servers. Once created, a strong key derivation function is used to generate encryption keys using that password, and no trace of your original password is ever uploaded to SpiderOak with your stored data." So basically, you need to keep note of your log-in information.

The user interface of SpiderOak is fairly easy to understand, but the service includes a five-part video tutorials to get you up and running.
5 Free Premium Giveaways
SpiderOak has provided us 5 free 100GB 1-year premium accounts for our readers. For your chance to win one of these accounts, you need to leave a comment below this article with a valid email address. To avoid spam, do not include the email address in your comment. All comments posted on or before 12:00 PM, February 17, 2011 will be put into the drawing. Just make sure you're registered on the AppleMatters.com site, and use a valid email address.

5 winners will be selected randomly using Random Picker. Winners will receive a promo code that can be entered after downloading and registering a SpiderOak account.