Twentieth Anniversary Macintosh
Introduced: May 1997
Terminated: March 1998
Description
The Twentieth Anniversary Macintosh ran a PowerPC 603e processor at 250Mhz. It had a 2Gb hard drive. It had a 4x CD-ROM and a 1.4Mb floppy drive. The maximum RAM was 128Mb. It had an ATI Rage IIc graphics card and a 12.1" LCD with a resolution of 800 x 600. It had a single PCI slot and a Comm II slot. It had custom built-in speakers from Bose and a built-in microphone, an external subwoofer, an S-video input and an analog audio input and output.
History
The Twentieth Anniversary Macintosh was actually introduced about a year after the official anniversary. It was similar in specifications to the Power Macintosh 5500, however, the design of it was very different from anything that had been seen before. Seen as a futuristic concept model, the Twentieth Anniversary Macintosh was a flat face on a stand. Echos of the design can be seen in the flat-panal iMac released many years later.
In spite of its eye-catching design and specialty Bose sound, the Twentieth Anniversary Macintosh was not a very powerful computer and it was very expensive. At $7,499 it did not sell well and the price was eventually cut to $1,999.
Photos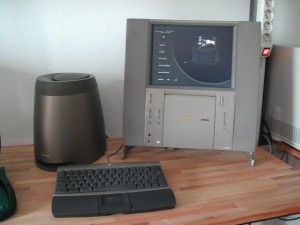 Specifications
Processor: PowerPC 603e
Processor Speed: 250 MHz
Cache: 32 KB L1, 256 KB L2
System Bus: 50 MHz
Hard Drive: 2.0 GB
Media: 4x CD-ROM, 1.44 MB floppy
Weight and Dimensions (US): 14.9 lbs., 17.25" H x 16.5" W x 10" D
Weight and Dimensions (Metric): 6.8 kg, 43.8 cm H x 41.9 cm W x 25.4 cm D
Original Mac OS: Mac OS 7.6.1 (System Enabler 704)
Maximum Mac OS: Mac OS 9.1
Firmware: Open Firmware with Macintosh ROM
Logicboard RAM: None
Maximum RAM: 128 MB
Type of RAM Slots: 2 - 5V 168 pin DIMMs
Minimum RAM Speed: 60 ns
Interleaving Support: No
Graphics Card: ATI Rage IIc
Graphics Memory: 2 MB
Built-in Display: 12.1-inch LCD @ 800 x 600
Display Connection: None
Expansion Slots: 1 - 7-inch PCI, 1 - Comm II
Hard Drive Bus: ATA
Backup Battery: 4.5 V Alkaline
Max Watts: 140 W
Line Voltage: 90-130/180-264 V
Ethernet: None
Modem: External 33.6 kps
ADB: 1
Serial: 2
SCSI: 1 - DB-25
USB: None
FireWire: None
Audio In: 1 - 3.5-mm analog input jack, 1 - Built-in microphone
Audio Out: 1 - 3.5-mm analog output jack, 2 - Built-in speakers
Timeline
Introduced in May of 1997, the Twentieth Anniversary Macintosh was discontinued in March 1998 after mediocre sales.
Videos