StyleWriter 1200
Introduced: April 1995
Terminated: April 1995
Description
An ink jet printer using QuickDraw, the StyleWriter 1200 could produce three pages a minute with a DPI of 720 x 360.
History
The last of the black and white StyleWriters, the StyleWriter 1200 was in production only a month.
Photos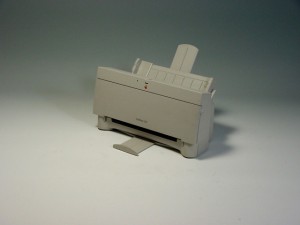 Specifications
Type: Thermal ink-jet
Processor: None
Processor Speed:—
Language: QuickDraw
Colors: 1
Connection: Serial
Pages Per Minute: 3
DPI: 720 x 360
Cartridge: Apple Black Cartridge M8041G/C or Canon Black Cartridge BC-02
Power: 19.5 W
Weight and Dimensions (US): 6.6 lbs., 7" H x 13.6" W x 7.9" D
Weight and Dimensions (Metric): 3 kg, 17.8 cm H x 34.5 cm W x 20.1 cm D
Timeline
Introduced and discontinued in April of 1995, the StyleWriter 1200 was replaced by color models in the StyleWriter line.
Videos