PowerBook G4 (17" 1.33GHz)
Introduced: September 2003
Terminated: April 2004
Description
A speed bump on the original PowerBook G4 (17"), the PowerBook G4 (17" 1.33GHz) ran at 1.33Ghz and had a 80Gb hard drive. There was 512Mb of RAM. It had internal BlueTooth, AirPort Extreme and a slot-loading SuperDrive.
History
The PowerBook G4 (17" 1.33Ghz) had the largest screen ever seen in a laptop. In addition to it's huge 1440 x 900 resolution screen, it was had a number of features that made it one of the highest end laptop Apple ever produced. Geared towards design professionals and other buyers who needed top-of-the-line features.
Photos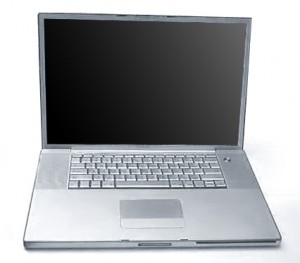 Specifications
Processor: PowerPC 7447 (G4)
Processor Speed: 1.33 GHz
Benchmarks: 1.33 GHz: 689
Cache: 64 KB L1, 512 KB on-chip (1:1) L2
System Bus: 167 MHz
Hard Drive: 80 GB 4200-rpm or 80 GB 5400-rpm
Media: 2x/8x/16x/4x/24x DVD-R/CD-RW SuperDrive
Weight and Dimensions (US): 6.8 lbs., 1" H x 15.4" W x 10.2" D
Weight and Dimensions (Metric): 3.1 kg, 2.6 cm H x 39.2 cm W x 25.9 cm D
Original Mac OS: Mac OS X 10.2.7 (6R55)
Later Mac OS:—
Maximum Mac OS: Latest release of Mac OS X
Hardware Test: AHT (PowerBook) 2.0.4, 2.0.5, 2.0.6, 2.5
Firmware: Open Firmware
Firmware Update: None
Logicboard RAM: None
Maximum RAM: 2.0 GB
Type of RAM Slots: 2 - PC2700 DDR333 200-pin SO-DIMM
Minimum RAM Speed:—
Interleaving Support: No
Graphics Card: ATI Mobility Radeon 9600
ATI Card Model: ATY,RV350M10
Graphics Connection: 4x AGP
Graphics Memory: 64 MB DDR
Built-in Display: 17-inch (diagonal) TFT
Resolutions: 1440 x 900 (native), 1152 x 720, 1024 x 768, 1024 x 640 and 800 x 600 pixels at 16:10 aspect ratio; 1024 x 768, 800 x 600 and 640 x 480 pixels at 4:3 aspect ratio
Display Modes: Dual display extended and video mirroring
Display Connection: DVI (Max 24-bit 2048 by 1536 non-mirror), S-video
Expansion Slots: Single Type I or II (CardBus compliant)
Expansion Bays: None
Hard Drive Bus: Ultra ATA/100 (ATA-6)
Motion Sensor: None
Backup Battery: 922-6064
Power Adapter: 65 W Apple Portable Power Adapter
System Battery: 58-watt-hour lithium-ion prismatic
Battery Life: Up to 4.5 hours
Max Watts:—
Line Voltage: 100-240V AC
AirPort: Built-in AirPort Extreme card (802.11b/g)
Bluetooth: Built-in Bluetooth 1.1
Ethernet: 10/100/1000BASE-T (RJ-45)
Modem: 56k v92
ADB: 1 - Internal for Trackpad
Serial: None
SCSI: None
USB: 2 - 480 MBit/s
FireWire: 1 - 400 MBit/s, 1 - 800 MBit/s (14W total power)
Security Slot: 1 - Kensington cable lock
Audio In: 1 - 3.5-mm analog input jack, Built-in microphone (16-bit 44.1 kHz sample rate)
Audio Out: 1 - 3.5-mm analog output jack, 2 - Built-in speakers (16-bit 44.1 kHz sample rate)
Timeline
Introduced in September 2003, the PowerBook G4 (17" 1.33Ghz) was discontinued in April 2004 to make way for new models.
Videos