PowerBook G3 Series
Introduced: May 1998
Terminated: August 1998
Description
The redesigned second generation of G3 PowerBooks, the PowerBook G3 Series, was available in three screen sizes with slightly different configurations. The 12.1" model ran at 233Mhz, the 13.2" ran at 250Mhz and the 14.1" ran at 292Mhz. They all had a 2Gb hard drive, a 20x CD-ROM or a DVD-ROM. The floppy drive was available in the 13.2" and 14.1" models. There were 192Mb of RAM expandable to 512Mb using the DIMM slots. It had an ATI Rage LT graphics card. The 12.1" model had a passive matrix screen while the larger models had an Active matrix screen. It had either two Type II or one Type III PC card and two PowerBook expansion bays. There was an analog audio input/output, a built-in microphone and built-in speakers.
History
The PowerBook G3 Series represented a complete redesign of the PowerBook line. The new casing was rounder and lighter than earlier models. The different sizes and configurations meant that the series had a low-end, mid-range and high-end model. It was the first time a PowerBook was built to order. The low-end model started at $2,299 and the high-end war around $7,000.
Photos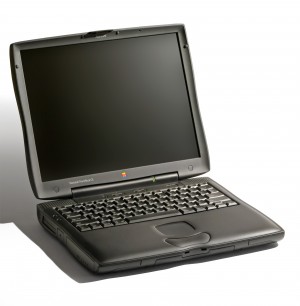 Specifications
Processor: PowerPC 750 (G3)
Processor Speed: 233, 250, 292 MHz
Cache: 64 k L1, 1 MB backside (1:2) (250/292 MHz) L2
System Bus: 66 MHz (233 MHz)/83 MHz (250/292 MHz)
Hard Drive: 2.0 GB
Media: 1.44 MB floppy, 20x CD-ROM or DVD-ROM
Weight and Dimensions (US): 7.2 (12.1-inch), 7.6 (13.3-inch), 7.8 lbs. (14.1-inch), 2" H x 12.7" W x 10.4" D
Weight and Dimensions (Metric): 3.3 (12.1-inch), 3.4 (13.3-inch), 3.5 kg (14.1-inch), 5.1 cm H x 32.3 cm W x 26.4 cm D
Original Mac OS: Mac OS 8.0
Later Mac OS:—
Maximum Mac OS: Mac OS X 10.2.8
Hardware Test: Not Supported
Firmware: Open Firmware with Macintosh ROM
Firmware Update: None
Logicboard RAM: None
Maximum RAM: 512 MB (Actual) 192 MB (Apple)
Type of RAM Slots: 2 - PC100 144-pin SO-DIMM
Minimum RAM Speed: 10 ns
Interleaving Support: No
Graphics Card: ATI Rage LT
ATI Card Model: ATY,LT-G
Graphics Connection:—
Graphics Memory: 2 - 4 MB
Built-in Display: 12.1" Passive Matrix or 13.3"/14.1" Active Matrix TFT
Resolutions: 800 x 600 (12.1-inch) or 1024 x 768 (13.3-inch/14.1-inch)
Display Modes: video mirroring only
Display Connection: 1 - VGA, 1 - S-video (13.3-inch/14.1-inch)
Expansion Slots: 2 - Type II or 1 - Type III PC Card (CardBus)
Expansion Bays: 2 - PowerBook (1998) Media Bays
Hard Drive Bus: ATA-2
Motion Sensor: None
Backup Battery: 922-3380
Power Adapter: 45 W AC (M4402)
System Battery: 49 Wh Lithium Ion (M6385, M4685)
Battery Life: 3.5 hours (one battery) or 7 hours (two batteries)
Max Watts: 45 W
Line Voltage: 100-240V AC
AirPort: None
Bluetooth: None
Ethernet: 10BASE-T
Modem: Optional or Standard 56k
ADB: 1 - External, 1 - Internal for Trackpad
Serial: 1
SCSI: HDI-30
USB: None
FireWire: None
Security Slot: 1 - Kensington cable lock
Audio In: 1 - 3.5-mm analog input jack, 1- Built-in microphone (16-bit 44.1 kHz sample rate)
Audio Out: 1 - 3.5-mm analog output jack, 2 - Built-in speakers (16-bit 44.1 kHz sample rate)
Timeline
Introduced in May 1998, the PowerBook G3 Series was discontinued in August 1998.
Videos