PowerBook (FireWire)
Introduced: February 2000
Terminated: January 2001
Description
Running the G3 processor at 400 or 500Mhz, the PowerBook (FireWire) had a 6 or 12Gb hard drive and a 6x or 8x DVD-ROM drive. It had an ATI Rage Mobility 128 graphics card and a 14.1" active matrix TFT screen with a native resolution of 1024 x 768. It was the first PowerBook to replace the SCSI port with FireWire ports.
History
The PowerBook (FireWire) utilized the Unified Motherboard Architecture (UMA), which meant that the components of the motherboard were now standardized. It also updated the graphics card, increased the bus speed to 100Mhz and made DVD-ROM drives standard. This was the first PowerBook to be AirPort compatible. It was also possible to upgrade the CPU of this model.
Photos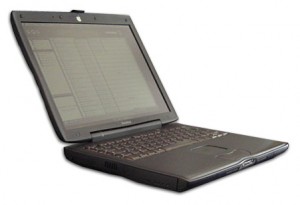 Specifications
Processor: PowerPC 750 (G3)
Processor Speed: 400 or 500 MHz
Benchmarks: 400 MHz: 210
Cache: 64 k L1, 1 MB backside (5:2) L2
System Bus: 100 MHz
Hard Drive: 6, 10, 12, or 20 GB
Media: 6x or 8x DVD-ROM
Weight and Dimensions (US): 6.1 lbs., 1.7" H x 12.7" W x 10.4" D
Weight and Dimensions (Metric): 2.8 kg, 4.3 cm H x 32.3 cm W x 26.4 cm D
Original Mac OS: Mac OS 9.0.2 (Mac OS ROM 3.5)
Later Mac OS:—
Maximum Mac OS: Latest release of Mac OS X
Hardware Test: AHT (PowerBook) 1.0, 1.1, 1.2, 1.2.1, 1.2.2, 1.2.3
Firmware: Open Firmware
Firmware Update: PowerBook Firmware Update 4.1.8
Firmware Update URL: http://docs.info.apple.com/article.html?artnum=75132
Logicboard RAM: None
Maximum RAM: 1.0 GB
Type of RAM Slots: 2 - PC100 3.3V 144-pin SO-DIMM
Minimum RAM Speed: 8 ns
Interleaving Support: No
Graphics Card: ATI Rage Mobility 128
ATI Card Model: ATY,RageM3
Graphics Connection: 2x AGP
Graphics Memory: 8 MB
Built-in Display: 14.1" active matrix TFT
Resolutions: 1024 x 768 (native), 800 x 600, 640 x 480
Display Modes: Dual display extended and video mirroring
Display Connection: 1 - VGA, 1 - S-video
Expansion Slots: Single Type I or II (CardBus compliant)
Expansion Bays: 1 - PowerBook (1999/2000) Media Bay
Hard Drive Bus: Ultra ATA/66 (ATA-5)
Motion Sensor: None
Backup Battery: 922-3829
Power Adapter: 45 W AC (M7332)
System Battery: 50 Wh Lithium Ion (M7318)
Battery Life:—
Max Watts: 45 W
Line Voltage: 100-240V AC
AirPort: Optional AirPort card (802.11b)
Bluetooth: None
Ethernet: 10/100BASE-T (RJ-45)
Modem: 56k
ADB: 1 - Internal for Trackpad
Serial: None
SCSI: None
USB: 2 - 12 MBit/s
FireWire: 2 - 400 MBit/s (6W total power)
Security Slot: 1 - Kensington cable lock
Audio In: 1 - 3.5-mm analog input jack, Built-in microphone (16-bit 44.1 kHz sample rate)
Audio Out: 1 - 3.5-mm analog output jack, Built-in speakers (16-bit 44.1 kHz sample rate)
Timeline
Introduced in February 2000, PowerBook (FireWire) configurations were improved in September 2000 with an increase in the hard drive sizes to 10 and 20Gb. The PowerBook FireWire was discontinued in January 2001.
Videos