Power Macintosh G3 (Desktop)
Introduced: November 1997
Terminated: January 1999
Description
Running the new G3 PowerPC 750 processor at 233, 266 or 300Mhz, the Power Macintosh G3 desktop had a 4 or 6Gb hard drive. It had a 24x CD-ROM, a DVD-ROM, a 1.4 floppy drive and an optional Zip drive. It shipped with the AppleDesign Keyboard and the ADB Mouse II. It had a maximum RAM of 768Mb. There was a graphics card, three PCI slots, one PERCH slots and two expansion bays for SCSI devices. It had analog audio inputs/outputs and optional RCA stereo jacks. It also had a built-in speaker.
History
The G3 desktop came in a case similar to the 7300. This was not as expandable as the G3 MiniTower model. The G3s became new Macintosh speed champs with the PowerPC 750 processor. The G3 was originally designed so that it would be compatible with any OS that could support it. This, like the Apple clones produced earlier, was an attempt to gain more market share. The idea was scrapped when Steve Jobs returned to Apple and saw the way the Apple clones had negatively impacted profits.
Photos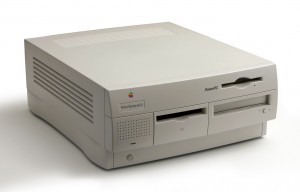 Specifications
Processor: PowerPC 750 (G3)
Number of Cores: 1
Processor Speed: 233, 266, or 300 MHz
Cache: 64 KB L1, 512 KB or 1 MB backside (1:2) L2
System Bus: 66 MHz
Hard Drive: 4 or 6 GB
Media: 24x CD-ROM, DVD-ROM, 1.44 MB floppy, Optional Zip
Peripherals: AppleDesign Keyboard and ADB Mouse II
Weight and Dimensions (US): 22 lbs., 6.3" H x 14.4" W x 16.9" D
Weight and Dimensions (Metric): 10 kg, 16 cm H x 36.6 cm W x 42.9 cm D
Original Mac OS: Mac OS 8.0
Later Mac OS:—
Maximum Mac OS: Mac OS X 10.2.8
Hardware Test: Not Supported
Firmware: Open Firmware with Macintosh ROM
Firmware Update: None
Logicboard RAM: None
Maximum RAM: 768 MB (Actual) 192 MB (Apple)
Type of RAM Slots: 3 - PC66 3.3v, unbuffered, 8-byte, x64 non-parity 168-pin SDRAM (Low Profile)
Minimum RAM Speed: 10 ns
Interleaving Support: No
Graphics Card: ATI 3D Rage II+DVD or ATI 3D Rage Pro-PCI
ATI Card Model: ATY,GT-B (Rage II), ATY,GT-C (Rage Pro)
Graphics Memory: 2 - 6 MB
Built-in Display: None
Display Modes: Single display only
Display Connection: DB-15
Expansion Slots: 3 - PCI, 1 - PERCH
Expansion Bays: 2 - for 3.5-inch SCSI devices
Hard Drive Bus: ATA-2 and SCSI
Large Drive Support: No (Maximum of 128 GB per drive)
Optical Drive Bus:—
Backup Battery: 3.6-3.9 V Lithium (922-4542)
Max Watts: 230 W
Line Voltage: 100-240V AC
Liquid Cooling: None
AirPort: None
Bluetooth: None
Ethernet: 10BASE-T (RJ-45)
Modem: Optional 56k
ADB: 1
Serial: 2
SCSI: 1 - DB-25
USB: None
FireWire: None
Audio In: 1 - 3.5-mm analog input jack, optional RCA jacks (16-bit 44.1 kHz sample rate)
Audio Out: 1 - 3.5-mm analog output jack, optional RCA jacks, Built-in speaker (16-bit 44.1 kHz sample rate)
Timeline
Introduced in November 1997, the Power Macintosh G3 was terminated in January 1999.
Videos