Power Macintosh 9500
Introduced: May 1995
Terminated: February 1997
Description
The Power Macintosh 9500 ran the 604 PowerPC processor at 120 or 132Mhz. The full tower case had seven bays for internal drives. There was no graphics capability without a third party card. It also had six PCI slots.
History
The high end of the second generation Power Macintosh line, the Power Macintosh 9500 was the most expandable PowerMac ever produced. The six expansion slots in the new PCI industry standard format were a major justification for the $5,300 price tag.
Photos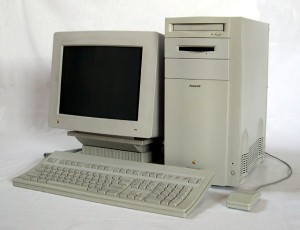 Specifications
Processor: PowerPC 604
Processor Speed: 120, 132, 150, dual 180, or 200 MHz
Cache: 16/32 KB data 16/32 KB instruction L1, 512 KB L2
System Bus: 40, 45, or 50 MHz
Hard Drive: 1.0 GB (120 MHz) 2.0 GB (132-200 MHz)
Media: 4x or 8x CD-ROM, 1.44 MB floppy
Weight and Dimensions (US): 36.8 lbs., 16.9" H x 7.7" W x 15.75" D
Weight and Dimensions (Metric): 16.7 kg, 42.9 cm H x 19.6 cm W x 40 cm D
Original Mac OS: System 7.5.2 (System Enabler 701 v1.0)
Maximum Mac OS: Mac OS 9.1
Firmware: Open Firmware with Macintosh ROM
Logicboard RAM: None
Maximum RAM: 1.5 GB
Type of RAM Slots: 12 - 168 Pin DIMMs
Minimum RAM Speed: 70ns
Interleaving Support: Yes
Graphics Card: Typically shipped with ixMicro Twin Turbo
Graphics Memory: 2 MB (Upgradeable to 4 MB)
Built-in Display: None
Display Connection: DB-15
Expansion Slots: 6 - PCI
Hard Drive Bus: SCSI
Backup Battery: 3.6 V Lithium
Max Watts: 225 W
Line Voltage: 100-125/200-240 V
Ethernet: AAUI and 10BASE-T
Modem: None
ADB: 1
Serial: 2
SCSI: 1 - DB-25
USB: None
FireWire: None
Audio In: 1 - 3.5-mm analog input jack
Audio Out: 1 - 3.5-mm analog output jack, 1 - Built-in speaker
Timeline
Introduced in May of 1995, the processor speed increased to 150Mhz in April 1996. It was increased to 200Mhz before being discontinued in February of 1997.
Videos