Power Macintosh 8600
Introduced: February 1997
Terminated: Early 1998
Description
The Power Macintosh 8600 ran a PowerPC 604e processor at 200Mhz. It had a 2Gb hard drive, a 12x CD-ROM, a 1.4Mb floppy and an optional Zip 100. The RAM was expandable to 1Gb when the eight DIMM slots were utilized. It also had three PCI slots, two RCA stereo inputs and outputs as well as an analog input and output. It also had a built-in speaker. It was housed in the same tower-style case as the 9600.
History
Though it was housed in the same new case as the 9600, the 8600 was less expandable and therefore more budget-friendly. It was not widely available immediately after its introduction because of supply problems. Supply stabilized about four months later.
Photos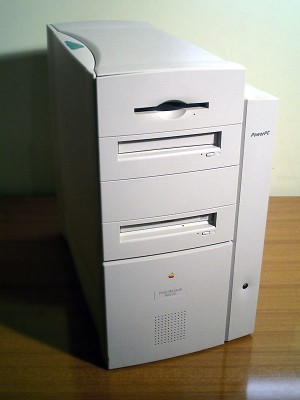 Specifications
Processor: PowerPC 604e or PowerPC 604ev Mach V
Processor Speed: 200, 250, or 300 MHz
Cache: 64 KB L1, 512 KB L2 (200 MHz) or 1 MB Inline (on 250 MHz+)
System Bus: 50 MHz
Hard Drive: 2/4 GB 5400 RPM
Media: 12x or 24x CD-ROM, Zip 100, 1.44 MB floppy
Weight and Dimensions (US): 35 lbs., 17.3" H x 9.7" W x 17.3" D
Weight and Dimensions (Metric): 15.9 kg, 43.9 cm H x 24.6 cm W x 43.9 cm D
Original Mac OS: System 7.5.5 (System Enabler 702) or 7.6.1
Maximum Mac OS: Mac OS 9.1
Firmware: Open Firmware with Macintosh ROM
Logicboard RAM: None
Maximum RAM: 1.0 GB (Actual) 512 MB (Apple)
Type of RAM Slots: 8 -168 Pin EDO or FPM DIMMs
Minimum RAM Speed: 70 ns (60ns on 300MHz+)
Interleaving Support: Yes
Graphics Card: None
Graphics Memory: 2 - 4 MB
Built-in Display: None
Display Connection: DB-15, Composite, S-Video
Expansion Slots: 3 - PCI
Hard Drive Bus: SCSI
Backup Battery: 3.6 V Lithium
Max Watts: 390 W
Line Voltage: 100-240 V
Ethernet: AAUI and 10BASE-T
Modem: None
ADB: 1
Serial: 2
SCSI: 1 - DB-25
USB: None
FireWire: None
Audio In: 2 - RCA input, 1 - 3.5-mm analog input jack
Audio Out: 2 - RCA output, 1 - 3.5-mm analog output jack, 1 - Built-in speaker
Timeline
After its introduction in February of 1997, the Power Macintosh 8600 was "speed bumped to 250 or 300Mhz in August. It was discontinued in early 1998 following the introduction of the G3 line.
Videos