Power Macintosh 7500
Introduced: August 1995
Terminated: May 1996
Description
The wider case of the Power Macintosh 7500 was modeled after the Centris 650. The PowerPC 601 processor ran at 100Mhz.
History
The Power Macintosh 7500 had features like composite video and s-video input that gave it the capability to act as a video conferencing system. However, it was limited and did not have the video outputs that would have allowed it to work as a video editing machine.
Photos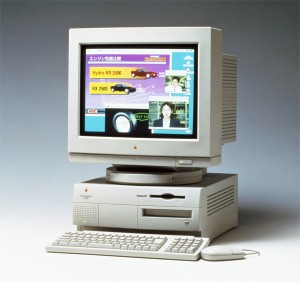 Specifications
Processor: PowerPC 601
Processor Speed: 100 MHz
Cache: 32 KB L1, Optional (256 KB–4 MB) L2
System Bus: 50 MHz
Hard Drive: 500 MB - 1GB
Media: Optional 4x CD-ROM, 1.44 MB floppy
Weight and Dimensions (US): 22 lbs., 6.15" H x 14.37" W x 16.93" D
Weight and Dimensions (Metric): 10 kg, 15.6 cm H x 36.5 cm W x 43 cm D
Original Mac OS: System 7.5.2 (System Enabler 701 v1.2)
Maximum Mac OS: Mac OS 9.1
Firmware: Open Firmware with Macintosh ROM
Logicboard RAM: None
Maximum RAM: 1.0 GB
Type of RAM Slots: 8 - 168 Pin DIMMs
Minimum RAM Speed: 70 ns
Interleaving Support: Yes
Graphics Card: None
Graphics Memory: 2 or 4 MB VRAM
Built-in Display: None
Display Connection: DB-15
Expansion Slots: 3 - PCI, 1 - DAV
Hard Drive Bus: SCSI
Backup Battery: 3.6 V Lithium
Max Watts: 150 W
Line Voltage: 100-125/200-240 V
Ethernet: AAUI-15 and 10BASE-T
Modem: None
ADB: 1
Serial: 2
SCSI: 1 - DB-25
USB: None
FireWire: None
Audio In: 2 - RCA input, 1 - 3.5-mm analog input jack
Audio Out: 2 - RCA output, 1 - 3.5-mm analog output jack, 1 - Built-in speaker
Timeline
Introduced in August 1995, the Power Macintosh 7500 was discontinued less than a year later in May 1996.
Videos