Power Macintosh 7300
Introduced: February 1997
Terminated: Late 1997
Description
Running a PowerPC 604e processor at speeds of 166, 180 or 200Mhz, the Power Macintosh 7300 had a 2Gb hard drive. It had a 12x CD-ROM and a 1.4Mb floppy drive. The RAM was expandable to 1Gb via eight DIMM slots. There were three PCI slots, audio inputs/outputs and a built-in speaker.
History
The Power Macintosh 7300 was a replacement for the 7200, however it brought with it the most important feature of the discontinued 7600-the CPU was positioned on the daughtercard, which means that it was upgradeable. It was two times faster than the 7200 and it was less expensive. The downside of the 7300 was that it did not have RCA stereo audio inputs/outputs. It also didn't have video inputs and outputs.
Photos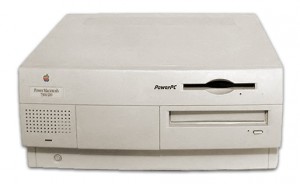 Specifications
Processor: PowerPC 604e and 166 MHz Pentium (on PC Compatible)
Processor Speed: 168, 180, or 200 MHz
Cache: 64 KB L1, 256 KB L2
System Bus: 48, 45, or 50 MHz
Hard Drive: 2.0 GB
Media: 12x CD-ROM, 1.44 MB floppy
Weight and Dimensions (US): 22 lbs., 6.15" H x 14.37" W x 16.93" D
Weight and Dimensions (Metric): 10 kg, 15.6 cm H x 36.5 cm W x 43 cm D
Original Mac OS: System 7.5.5 (System Enabler 702)
Maximum Mac OS: Mac OS 9.1
Firmware: Open Firmware with Macintosh ROM
Logicboard RAM: None
Maximum RAM: 1.0 GB (Actual) 512 MB (Apple)
Type of RAM Slots: 8 - 168 Pin DIMMs
Minimum RAM Speed: 70 ns
Interleaving Support: Yes
Graphics Card: None
Graphics Memory: 2 or 4 MB VRAM
Built-in Display: None
Display Connection: DB-15
Expansion Slots: 3 - PCI
Hard Drive Bus: SCSI
Backup Battery: 3.6 V Lithium
Max Watts: 150 W
Line Voltage: 100-130/200-270 V
Ethernet: AAUI-15 and 10BASE-T
Modem: None
ADB: 1
Serial: 2
SCSI: 1 - DB-25
USB: None
FireWire: None
Audio In: 1 - 3.5-mm analog input jack
Audio Out: 1 - 3.5-mm analog output jack, 1 - Built-in speaker
Timeline
Introduced in February 1997, the Power Macintosh 7300 was terminated in late 1997 when the new G3 line was introduced.
Videos