Power Macintosh 7200/Apple Workgroup Server 7250
Introduced: August 1995
Terminated: March 1996
Description
The Power Macintosh 7200 ran the PowerPC 601 processor at 75 or 90Mhz. It had a hard drive of between 500MB to 1.2GB and came with a 4x or 8x CD-ROM and 1.44 floppy drive. It also had 3 PCI expansion slots.
History
The most noteworthy thing about the Power Macintosh 7200 was the fact that it was an entry-level, budget conscious computer with PCI slots.
When bundled with server software, it was sold as the Apple Workgroup Server 7250.
Photos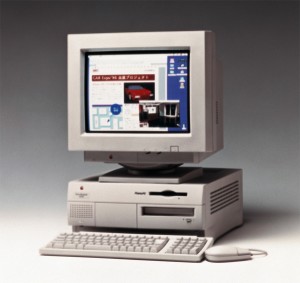 Specifications
Processor: PowerPC 601
Processor Speed: 75, 90, or 120 MHz
Cache: 32 KB L1, Optional 256 KB, 512 KB, or 1 MB L2
System Bus: 37.5, 45, or 40 MHz
Hard Drive: 500 MB - 1.2 GB
Media: 4x or 8x CD-ROM, 1.44 MB floppy
Weight and Dimensions (US): 22 lbs., 6.15" H x 14.37" W x 16.93" D
Weight and Dimensions (Metric): 10 kg, 15.6 cm H x 36.5 cm W x 43 cm D
Original Mac OS: System 7.5.2 (System Enabler 701 v1.1)
Maximum Mac OS: Mac OS 9.1
Firmware: Open Firmware with Macintosh ROM
Logicboard RAM: None
Maximum RAM: 512 MB
Type of RAM Slots: 4 - 168 Pin FPM DIMMs
Minimum RAM Speed: 70 ns
Interleaving Support: No
Graphics Card: None
Graphics Memory: 1 - 4 MB VRAM
Built-in Display: None
Display Connection: DB-15
Expansion Slots: 3 - PCI
Hard Drive Bus: SCSI
Backup Battery: 3.6 V Lithium
Max Watts: 150 W
Line Voltage: 100-240 V
Ethernet: AAUI-15, 10BASE-T
Modem: None
ADB: 1
Serial: 2
SCSI: 1 - DB-25
USB: None
FireWire: None
Audio In: 1 - 3.5-mm analog input jack
Audio Out: 1 - 3.5-mm analog output jack, 1 - Built-in speaker
Timeline
Introduced in August 1995, the Power Macintosh 7200/Apple Workgroup Server 7250 was discontinued in March of 1996.
Videos