Power Macintosh 7100
Introduced: March 1994
Terminated: March 1994
Description
The Power Macintosh 7100 used a PowerPC 601 processor to run at speeds of 66 or 80Mhz. It had a 32K level one cache and a 256K level two cache. The system bus was either 22 or 40 Mhz and it came with a hard drive that had between 250 and 700MB.
The Power Macintosh 7100 was more expandable than the 6100. It had three seven-inch NuBus slots and 1 PDS slot. It came in a case that was basically redesigned from the IIvx.
History
The Power Macintosh 7100 was the mid-range of the new PowerPC line. It had more expandability and more power than the 6100.
The internal code name of the Power Macintosh 7100 was the cause of an amusing lawsuit. Originally it was code named the "Carl Sagan," but the famous astronomer sued Apple when he learned of it, particularly in light of the other code names for machines in production, "Cold Fusion" and "Piltdown Man." Though he lost the lawsuit, Apple engineers came up with a new code name for the 7100, "BHA" which stood for "Butt-Head Astronomer." Sagan sued again and lost again, sparking a new code name change to "LAW" which stood for "Lawyers are Wimps."
Photos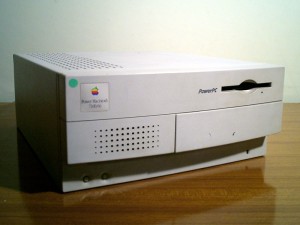 Specifications
Processor: PowerPC 601
Processor Speed: 66 or 80 MHz
Cache: 32 KB L1, 256 KB (80 MHz) L2
System Bus: 33 or 40 MHz
Hard Drive: 250 - 700 MB
Media: 2x Optional CD-ROM, 1.44 MB floppy
Weight and Dimensions (US): 25 lbs., 6" H x 13" W x 16.5" D
Weight and Dimensions (Metric): 11.3 kg, 15.2 cm H x 33 cm W x 41.9 cm D
Original Mac OS: System 7.1.2 (PowerPC Enabler v1.0)
Maximum Mac OS: Mac OS 9.1
Firmware: Macintosh ROM
Logicboard RAM: 8 MB
Maximum RAM: 136 MB
Type of RAM Slots: 4 - 72 Pin SIMMs (Groups of 2)
Minimum RAM Speed: 80 ns
Interleaving Support: No
Graphics Card: None
Graphics Memory: 2 MB
Built-in Display: None
Display Connection: HDI-45 and DB-15
Expansion Slots: 3 - 7" NuBus, 1 - PDS (Power Macintosh 2 MB Video Card installed)
Hard Drive Bus: SCSI
Backup Battery: 3.6 V Lithium
Max Watts: 230 W
Line Voltage: 100-240 V
Ethernet: AAUI-15
Modem: None
ADB: 1
Serial: 2
SCSI: 1 - DB-25
USB: None
FireWire: None
Audio In: 1 - 3.5-mm analog input jack
Audio Out: 1 - 3.5-mm analog output jack, 1 - Built-in speaker
Timeline
The Power Macintosh 7100 was introduced in March of 1994 and discontinued in January 1995.
Videos