Power Macintosh 6400
Introduced: August 1996
Terminated: Mid 1997
Description
The Power Macintosh 6400 ran a PowerPC 603ev processor at 180 or 200Mhz. The hard drive was available with 1.6 or 2.4Gb off memory. It came with an 8x CD-ROM drive and a 1.4Mb floppy drive. A Zip 100 drive was optional. There was 8Mb of logicboard RAM with up to 136Mb of RAM possible when utilizing the two DIMM slots. There were two PCI slots, one Comm II slot, one video in and one TV tuner slot. It had an audio in and two audio outs in addition to a built in speaker and built in subwoofer.
History
The previous year's holiday season had been educational for Apple, lower end Performa models had been over-produced while mid-range models were in short supply. The Power Macintosh 6400, also known as the Performa 6400 was a mid-range computer geared towards the at-home market.
Packaged in a new "InstaTower" case, the 6400 was similar to the 5400. The major difference was that it was not an all-in-one. Many of the problems found in the 6200/5200 models were resolved in the 6400.
Photos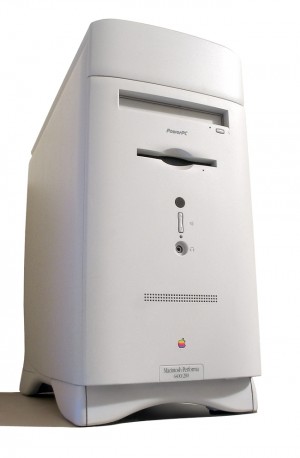 Specifications
Processor: PowerPC 603ev
Processor Speed: 180 or 200 MHz
Cache: 32 KB L1, 256 KB L2 (200 MHz)
System Bus: 40 MHz
Hard Drive: 1.6 or 2.4 GB
Media: 8x CD-ROM, optional Zip 100, 1.44 MB floppy
Weight and Dimensions (US): 44.5 lbs., 16" H x 7.8" W x 16.9" D
Weight and Dimensions (Metric): 20.2 kg, 40.6 cm H x 19.8 cm W x 42.9 cm D
Original Mac OS: System 7.5.3 (System Enabler 410 v1.1)
Maximum Mac OS: Mac OS 9.1
Firmware: Open Firmware with Macintosh ROM
Logicboard RAM: 8 MB
Maximum RAM: 136 MB
Type of RAM Slots: 2 - 168 Pin DIMMs
Minimum RAM Speed: 70 ns
Interleaving Support: No
Graphics Card: None
Graphics Memory: 1 MB
Built-in Display: None
Display Connection: DB-15
Expansion Slots: 2 - 7" PCI, 1 - Comm II, 1 - Video-In, 1 - TV Tuner
Hard Drive Bus: ATA
Backup Battery: 4.5 V Alkaline
Max Watts: 220 W
Line Voltage: 100-125/200-240 V
Ethernet: Optional 10BASE-T
Modem: 28.8 kps
ADB: 1
Serial: 2
SCSI: 1 - DB-25
USB: None
FireWire: None
Audio In: 1 - 3.5-mm analog input jack
Audio Out: 2 - 3.5-mm analog output jacks, 1 - Built-in speaker, 1 - Built-in subwoofer
Timeline
Initially released in August 1996 as the Performa 6400, the model named Power Macintosh 6400 was release two months later. In August of 1997, the Performa brand name was discontinued and the 6400 was replace with the 6500.
Videos