Power Macintosh 6100
Introduced: March 1994
Terminated: January 1995
Description
The Power Macintosh 6100 was the first Mac that contained the new PowerPC processor, which was created by both Motorola and IBM. The PowerPC 601 chip ran at 60Mhz, while the version of the computer running the Intel 486DX2-66 chip ran at 66Mhz. There was a 32K level 1 cache. The hard drive was available in either 160, 250 or 350MB. The 8MB of RAM could be expanded 136MB.
The Power Macintosh 6100 came in a case modeled after the Centris 610, which was the low-profile "pizza box" style case. A 2x CD-ROM and 1.44MB floppy drive was standard.
History
The PowerPC processor in the Power Macintosh 6100 was a new step for Apple and the chip would be a defining feature of Macintosh for years to come. The 6100 was the earliest and slowest of the PowerPC computers, though third party upgrades made it possible to improve the processor speed.
Photos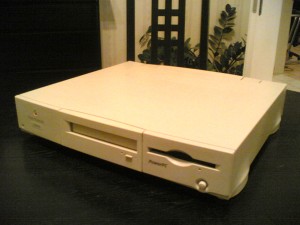 Specifications
Processor: PowerPC 601 (Optional Intel 486DX2-66)
Processor Speed: 60 or 66 MHz
Cache: 32 KB L1, Optional (60 MHz) or 256 KB (66 MHz) L2
System Bus: 30 MHz
Hard Drive: 160, 250, or 350 MB
Media: Optional or 2x CD-ROM (AV models), 1.44 Floppy drive
Weight and Dimensions (US): 14 lbs., 3.4" H x 16.3" W x 15.6" D
Weight and Dimensions (Metric): 6.4 kg, 8.6 cm H x 41.4 cm W x 39.6 cm D
Original Mac OS: System 7.1.2 (PowerPC Enabler v1.0)
Maximum Mac OS: Mac OS 9.1
Firmware: Macintosh ROM
Logicboard RAM: 8 MB
Maximum RAM: 136 MB (Actual) 72 MB (Apple)
Type of RAM Slots: 2 - 72 Pin SIMMs (Groups of 2)
Minimum RAM Speed: 80 ns
Interleaving Support: No
Graphics Card: None
Graphics Memory: None or 2 MB (AV models)
Built-in Display: None
Display Connection: HDI-45 or HDI-45 and DB-15 (AV models)
Expansion Slots: 1 - 7" PDS or NuBus (AV card installed on AV models)
Hard Drive Bus: SCSI
Backup Battery: 3.6 V Lithium
Max Watts: 210 W
Line Voltage: 100–240 V
Ethernet: AAUI-15
Modem: None
ADB: 1
Serial: 2
SCSI: 1 - DB-25
USB: None
FireWire: None
Audio In: 1 - 3.5-mm analog input jack
Audio Out: 1 - 3.5-mm analog output jack, 1 - Built-in speaker
Timeline
Introduced in March of 1994, the Power Macintosh 6100 was discontinued in January 1995.
Videos