Power Mac G5
Introduced: June 2003
Terminated: June 2004
Description
The Power Mac G5 was housed in a new and innovative aluminum casing. There were three different configurations in the initial release. The low-end configuration ran at 1.6Ghz, had an 80Gb hard drive and 256Mb of RAM. Midrange configuration ran at 1.8Ghz, had a 160Gb hard drive and 512Mb of RAM. The high-end configuration ran dual 2.0Ghz, had a 160Gb hard drive and 512Mb of RAM. The Power Mac G5 had PCI-X slots and 8X AGP slot. It also had a Serial-ATA bus and a front-side bus speed. All configurations had a SuperDrive.
History
Launched as the fastest personal computer ever built, the Power Mac G5 represented a major leap forward. Now working with IBM for the processor instead of Motorola, the fifth generation of the PowerPC based computers was far more advanced and had a number of enhancements to the motherboard. The new aluminum case was stylish and well designed.
Apple's newest professional level desktop was $1,999 for the low-end configuration, $2,399 for the midrange and $2,999 for the high-end dual processor configuration.
Some early versions with the dual processor were noted for having annoying noise problems.
Photos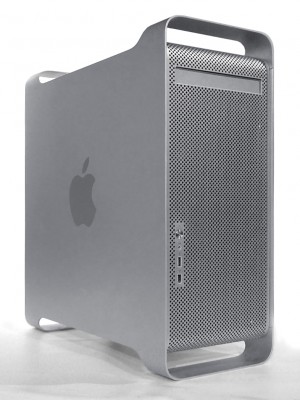 Specifications
Processor: PowerPC 970 v2.2 (G5)
Number of Cores: 1
Processor Speed: 1.6, 1.8, dual 1.8, or dual 2.0 GHz
Benchmarks: 1.6 GHz: 988, 1.8 GHz: 1127, dual 1.8 GHz: 1592, dual 2.0 GHz: 1671
Cache: 64 KB (instruction), 32 KB (data) L1, 512 KB L2
System Bus: 800, 900, dual 900 MHz, or dual 1.0 GHz
Hard Drive: 80, 160, or 250 GB 7200-rpm
Media: 4x/8x/16x/8x/32x DVD-R/CD-RW (4x SuperDrive)
Peripherals: Apple Keyboard, Apple Mouse
Weight and Dimensions (US): 39.2 lbs., 20.1" H x 8.1" W x 18.7" D
Weight and Dimensions (Metric): 17.8 kg, 51.1 cm H x 20.6 cm W x 47.5 cm D
Original Mac OS: Mac OS X 10.2.7 (G5) (6S80) or 10.3 (dual 1.8 GHz)
Later Mac OS: Mac OS X 10.3
Maximum Mac OS: Latest release of Mac OS X
Hardware Test: AHT (Power Mac) 2.1, 2.2.5, 2.5, 2.5.2
Firmware: Open Firmware
Firmware Update: Power Mac G5 Firmware Update 5.1.4
Firmware Update URL: http://www.apple.com/support/downloads/powermacg5firmwareupdate.html
Logicboard RAM: None
Maximum RAM: 4.0 GB (1.6 GHz) or 8.0 GB (1.8 GHz+)
Type of RAM Slots: 4 - PC2700 (1.6 GHz), or 8 - PC3200 (1.8 GHz+) 2.5v, unbuffered, 8-byte, nonparity 184-pin DDR SDRAM (matched pairs)
Minimum RAM Speed:—
Interleaving Support: Yes
Graphics Card: NVIDIA GeForceFX 5200 Ultra, GeForce 6800 Ultra DDL, ATI Radeon 9600 Pro, or Radeon 9800 Pro
ATI Card Model: ATY,RV350 (9600 Pro), ATY,R350 (9800 Pro)
Graphics Memory: 64 (GeForceFX or Radeon 9600 Pro) or 128 MB (Radeon 9800 Pro) or 256 MB (6800)
Built-in Display: None
Display Modes: Dual display extended and video mirroring
Display Connection: 1 - ADC, 1 - DVI (5200, 9600, 9800) or 2 - dual-link DVI (6800)
Expansion Slots: 3 - PCI (1.6 GHz) 3 - PCI-X (1.8 GHz+), 1 - 8x AGP Pro
Expansion Bays: 2 - Internal 3.5" Serial ATA drive bays, 1 - optical drive bay
Hard Drive Bus: 2 - 1.5 Gbps Serial ATA (SATA) controllers
Large Drive Support: Yes (128 GB or larger per drive)
Optical Drive Bus: Ultra ATA/100
Backup Battery: 3.6 V 850 mAh Lithium (922-4028)
Max Watts: 420 W (1.6), 430 W (1.8), 604 W (Dual 1.8/2.0 GHz)
Line Voltage: 100–125V AC or 200–240V AC
Liquid Cooling: None
AirPort: Optional AirPort Extreme card (802.11b/g) (external antenna)
Bluetooth: Optional Bluetooth 1.1
Ethernet: 10/100/1000BASE-T (RJ-45)
Modem: 56k v92
ADB: None
Serial: None
SCSI: None
USB: 3 - 480Mbps
FireWire: 2 - 400 MBit/s, 1 - 800 MBit/s (15W total power)
Audio In: 1 - 3.5-mm analog input jack, 1 - optical S/PDIF (Toslink) input (24-bit 44.1 kHz sample rate)
Audio Out: 2 - 3.5-mm analog output jacks, 1 - optical S/PDIF (Toslink) output, 1 - Built-in speaker (24-bit 44.1 kHz sample rate)
Timeline
Introduced in June 2003, the original Power Mac G5 was discontinued in June 2004 when newer models were released.
Videos