Power Mac G4 (PCI Graphics)
Introduced: September 1999
Terminated: December 1999
Description
The Power Mac G4 (PCI Graphics) was housed in a tower style case similar to the Blue and White G3 except with a Graphite-colored case. It ran the new PowerPC 7400 processor at 350Mhz. There was a maximum RAM of 1Gb. The hard drive had 10Gb of space and it had a 32x CD-ROM drive. It had four PCI expansion slots and four internal drive bays. There were also two USB and two FireWire ports.
History
The G4 PCI was released by Apple because the totally redesigned G4 AGP was not ready to ship. The G4 PCI was based on the motherboard of the Blue and White G3, the major difference being the new 7400 chip. With a base price of $1599, it was inexpensive for a professional-level Mac, but build-to-order options were necessary to bring the features up to the high-end standard.
Photos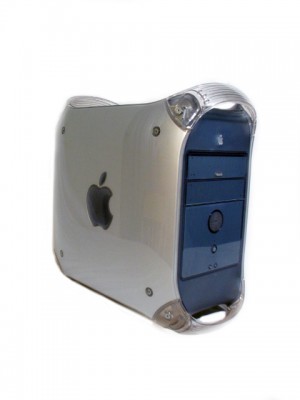 Specifications
Processor: PowerPC 7400 v2.6 (G4)
Number of Cores: 1
Processor Speed: 350 or 400 MHz
Cache: 64 KB L1, 512 KB or 1 MB backside (1:2) L2
System Bus: 100 MHz
Hard Drive: 10 GB
Media: CD-ROM
Peripherals: Apple USB Keyboard, Apple USB Mouse
Weight and Dimensions (US): 28.7 lbs., 17" H x 8.9" W x 18.4" D
Weight and Dimensions (Metric): 13 kg, 43.2 cm H x 22.6 cm W x 46.7 cm D
Original Mac OS: Mac OS 8.6 (Mac OS ROM 1.7.1)
Later Mac OS:—
Maximum Mac OS: Latest release of Mac OS X
Hardware Test: Not Supported
Firmware: Open Firmware
Firmware Update: None
Logicboard RAM: None
Maximum RAM: 1.0 GB
Type of RAM Slots: 4 - PC100 3.3v, unbuffered, 8-byte, non-parity 168-pin SDRAM
Minimum RAM Speed: 125 MHz (8 ns)
Interleaving Support: No
Graphics Card: ATI Rage 128
ATI Card Model: ATY,Rage128 (Rage 128)
Graphics Memory: 16 MB VRAM
Built-in Display: None
Display Modes: Single display only
Display Connection: 1 - VGA
Expansion Slots: 3 - 33MHz, 1- 66MHz PCI
Expansion Bays: 4 - internal 3.5" ATA drive bays, 1 - optical drive bay, 1 - Zip 100 bay
Hard Drive Bus: Ultra ATA/33 (ATA-4)
Large Drive Support: No (Maximum of 128 GB per drive)
Optical Drive Bus: EIDE (ATA-3)
Backup Battery: 3.6 V Lithium (922-1262)
Max Watts: 200 W
Line Voltage: 115 - 230V AC
Liquid Cooling: None
AirPort: None
Bluetooth: None
Ethernet: 10/100BASE-T (RJ-45)
Modem: Optional 56k
ADB: None
Serial: None
SCSI: None
USB: 2 - 12 MBit/s
FireWire: 2 - 400 MBit/s (15W total power)
Audio In: 1 - 3.5-mm analog input jack (16-bit 44.1 kHz sample rate)
Audio Out: 1 - 3.5-mm analog output jack, Built-in speaker (16-bit 44.1 kHz sample rate)
Timeline
Introduced in September 1999, the G4 PCI was only in production for a few months so that the bugs could be worked out of the G4 AGP. It was discontinued in December 1999.
Videos