Power Mac G4 (Gigabit Ethernet)
Introduced: August 2000
Terminated: January 2001
Description
The new edition of the Power Mac G4 was available with a 400Mhz processor or dual 450 or 500Mhz processors. As the name indicated, it included 1000Base-T Ethernet. The 400Mhz configuration had 64Mb of RAM and a 20Gv hard drive. The configuration with dual 450Mhz processors had 128Mb of RAM and a 30Gb hard drive. The dual processor 500Mhz configuration had 256Mb of RAM and 40Gb of hard drive space. Each included the Pro Mouse, Pro Keyboard and a 56Kbps modem.
History
The first personal computer ever to have Gigabit Ethernet standard, the new release of the Power Mac G4 was available as a low-end 400Mhz configuration and the higher-end dual processor configurations. It also featured the Apple Display Connector (ADC) that connected the computer to a monitor, streaming both power and video.
Photos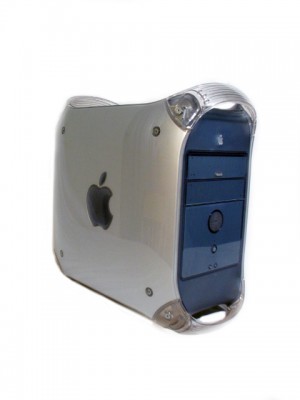 Specifications
Processor: PowerPC 7400 v2.9 (G4)
Processor Speed: dual 450, dual 500 MHz
Coprocessor: Built-in FPU
Cache: 64 KB L1, 1 MB backside (1:2) L2
System Bus: 100 MHz (up to 800-MBps data throughput)
Hard Drive: 80 GB 7200-rpm (ATA), 36, or 72 GB 10,000-rpm (SCSI)
Media: DVD-ROM or DVD-RAM
Weight and Dimensions (US): 30 lbs., 17" H x 8.9" W x 18.4" D
Weight and Dimensions (Metric): 13.6 kg, 43.2 cm H x 22.6 cm W x 46.7 cm D
Original Mac OS:—
Maximum Mac OS: Latest release of Mac OS X
Firmware: Open Firmware
Logicboard RAM: None
Maximum RAM: 2.0 GB under Mac OS X, 1.5 GB under Mac OS 8.x/9.x
Type of RAM Slots: 4 - PC100 3.3v, unbuffered, 8-byte, non-parity 168-pin SDRAM
Minimum RAM Speed: 125 MHz (8 ns)
Interleaving Support: No
Graphics Card: ATI Rage 128 Pro
Graphics Memory: 16 MB
Built-in Display: None
Display Connection: 1 - VGA, 1 - ADC
Expansion Slots: 3 - 64-bit 33 MHz PCI, 1 - 2x AGP
Expansion Bays: 4 - internal 3.5" ATA drive bays, 1 - optical drive bay, 1 - Zip 100/250 bay
Hard Drive Bus: Ultra ATA/66 (ATA-5) or Ultra160 SCSI
Large Drive Support: No (Maximum of 128 GB per drive)
Backup Battery: 3.6 V 850 mAh Lithium (922-4028)
Max Watts: 220 W
Line Voltage: 115V AC (90V to 132V AC) or 230V AC (180V to 264V AC)
Ethernet: 10/100/1000BASE-T (RJ-45)
Modem: None
ADB: None
Serial: None
SCSI: Optional Ultra160 SCSI PCI card
USB: 2 - 12 MBit/s
FireWire: 2 - 400 MBit/s (15W total power)
Audio In: 1 - 3.5-mm analog input jack (16-bit 44.1 kHz sample rate)
Audio Out: 1 - 3.5-mm analog output jack, Built-in speaker (16-bit 44.1 kHz sample rate)
Timeline
Introduced at the Macworld Expo New York in July 2000 and released for sale in August, the Power Mac G4 (Gigabit Ethernet) was discontinued in January 2001.
Videos