Power Mac G4 (Digital Audio)
Introduced: January 2001
Terminated: July 2001
Description
The Power Mac G4 (Digital Audio) was available with a low-end and a high-end processor. The low-end had a PPC 7410 processor. The high-end had a PPC 7450 processor that had a 256Kb level 2 cache on the chip as well as four Altivec units. There were four configurations available. The 466Mhz configuration had a 30Gb hard drive and 128Mb of RAM. The 533Mhz configuration had a 40Gb hard drive and 128Mb of RAM. The 667Mhz configuration had a 60Gb hard drive and 256Mb of RAM. The 733Mhz had a 60Gb hard drive and 256Mb of RAM. The 733Mhz model featured the new "SuperDrive" which could read and write for both CD and DVD media. The Digital Audio part of the name came from a new built-in amplifier, which worked to drive USB based speakers.
History
The first speed bump to the professional-level Power Mac line in more than a year, the Power Mac G4 (Digital Audio) offered a faster processor and a vastly improved set-up for digital audio. The fastest configuration was also the first Mac to come with the new "SuperDrive" as the optical drive, which allowed users to read and burn CDs and DVDs.
Photos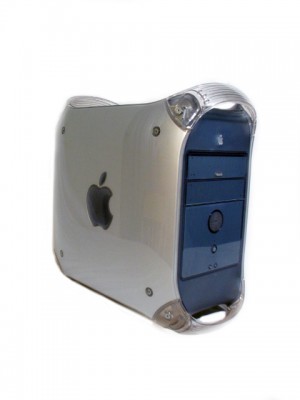 Specifications
Processor: PowerPC 7410 v1.3 or 7450 v2.0 (G4)
Number of Cores: 1
Processor Speed: 466, 533, dual 533, 667, or 733 MHz
Benchmarks: 466 MHz: 314, 533 MHz: 352, dual 533 MHz: 542
Cache: 64 KB L1, 256 KB (1:1) or 1 MB (1:2) L2, 1 MB L3 (733MHz)
System Bus: 133 MHz
Hard Drive: 30GB 5400-rpm, 40GB 7200-rpm, or 60GB 7200-rpm
Media: DVD-ROM, 8x4x32x CD-RW, or 2x/6x/8x/4x/24x DVD-R/CD-RW SuperDrive. Optional Zip 250 drive
Peripherals: Apple Pro Keyboard, Apple Pro Mouse
Weight and Dimensions (US): 30 lbs., 17" H x 8.9" W x 18.4" D
Weight and Dimensions (Metric): 13.6 kg, 43.2 cm H x 22.6 cm W x 46.7 cm D
Original Mac OS: Mac OS 9.1 (Mac OS ROM 6.7.1)
Later Mac OS: Mac OS 9.1 and Mac OS X 10.0.3
Maximum Mac OS: Latest release of Mac OS X
Hardware Test: AHT (Power Mac) 1.2, 1.2.1, 1.2.2, 1.2.3, 1.2.4, 1.2.5, 1.2.6, 1.2.7
Firmware: Open Firmware
Firmware Update: Power Mac G4 Firmware Update 4.2.8
Firmware Update URL: http://docs.info.apple.com/article.html?artnum=120068
Logicboard RAM: None
Maximum RAM: 1.5 GB
Type of RAM Slots: 3 - PC133 3.3v, unbuffered, 8-byte, non-parity 168-pin SDRAM
Minimum RAM Speed: 125 MHz (8 ns)
Interleaving Support: No
Graphics Card: ATI Rage 128 Pro, Radeon, NVIDIA GeForce2 MX, or GeForce3
ATI Card Model: ATY,Rage128Pro (Rage 128 Pro), ATY,Rage6 (Radeon)
Graphics Memory: 16 MB (128 Pro), 32 MB (GeForce2/Radeon), or 64 MB (GeForce3)
Built-in Display: None
Display Modes: Single display only
Display Connection: 1 - VGA, 1 - ADC
Expansion Slots: 4 - 64-bit 33 MHz PCI, 1 - 4x AGP
Expansion Bays: 4 - internal 3.5" ATA drive bays, 1 - optical drive bay, 1 - Zip 250 bay
Hard Drive Bus: Ultra ATA/66 (ATA-5)
Large Drive Support: No (Maximum of 128 GB per drive)
Optical Drive Bus: EIDE (ATA-3)
Backup Battery: 3.6 V 850 mAh Lithium (922-4028)
Max Watts: 338 W
Line Voltage: 115V AC (90V to 132V AC) or 230V AC (180V to 264V AC)
Liquid Cooling: None
AirPort: Optional AirPort card (802.11b)
Bluetooth: None
Ethernet: 10/100/1000BASE-T (RJ-45)
Modem: Optional 56k
ADB: None
Serial: None
SCSI: None
USB: 2 - 12 MBit/s
FireWire: 2 - 400 MBit/s (15W total power)
Audio In: None
Audio Out: 1 - 3.5-mm analog output jack, 1 - 2.5-mm Apple Pro Speaker minijack
Timeline
Introduced in January 2001, the Power Mac G4 was discontinued later that year in July.
Videos