Personal LaserWriter LS
Introduced: March 1, 1991
Terminated: May 1, 1993
Description
The Personal LaserWriter LS had .5MB of RAM that could be expanded to 1MB. It used the QuickDraw language and communicated via a serial port. It could print four pages a minute with a DPI of 300.
History
The continuation of the Personal LaserWriter line, the Personal LaserWriter LS, like its predecessors, provided a home user with some of the quality of a LaserWriter at a much lower price. By leaving out elements like a fast processor, upgradeable RAM and PostScript, the cost of the Personal LaserWriter LS was kept low.
Photos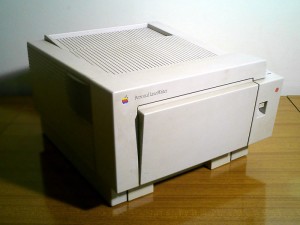 Specifications
Type: Electrophotography
Processor: None
Processor Speed:—
Language: QuickDraw
Colors: 1
Connection: RS-422 Serial
Pages Per Minute: 4
DPI: 300
Cartridge: M0089LL/A
Power: 600 W
Weight and Dimensions (US): 32 lbs., 8" H x 15" W x 18.3" D
Weight and Dimensions (Metric): 14.5 kg, 20.3 cm H x 38.1 cm W x 46.5 cm D
ROM Size: None
Maximum RAM: 1 MB
Type of RAM Slots: 1, 30-pin SIMM
Minimum RAM Speed: 100 ns
Timeline
The Personal LaserWriter LS was introduced in March of 1991 and discontinued in May of 1993.
Videos