Personal LaserWriter 320
Introduced: October 1993
Terminated: September 1995
Description
The Personal LaserWriter 320 offered several upgrades over the lower end Personal LaserWriter 300. It had an AMD 29205 processor running at 16Mhz. There was a ROM of 4MB and a maximum RAM of 8MB. It used the PostScript level 2 interpreters and communicated via LocalTalk. It could print up to four pages a minute with a DPI of 300.
History
The addition of PostScript and a CPU made the Personal LaserWriter 320 a far more powerful printer than the Personal LaserWriter 300. The addition of LocalTalk networking made it an excellent computer for small business networks.
Photos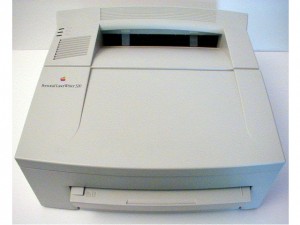 Specifications
Type: Electrophotography
Processor: AMD 29205
Processor Speed: 16 MHz
Language: PostScript Level 2
Colors: 1
Connection: LocalTalk
Pages Per Minute: 4
DPI: 300
Cartridge: Apple M2045G/A or HP 92274A
Power: 600 W
Weight and Dimensions (US): 32 lbs., 8" H x 15" W x 18.3" D
Weight and Dimensions (Metric): 14.5 kg, 20.3 cm H x 38.1 cm W x 46.5 cm D
ROM Size: 4 MB
Maximum RAM: 8 MB
Type of RAM Slots: 1, Card
Minimum RAM Speed:—
Timeline
The Personal LaserWriter 320 was introduce in October of 1993 and discontinued in September 1995.
Videos